Mummy Research at the University of Zurich
A Swiss-German research team under the supervision of Dr. Dr. Frank Rühli of the Institute of Anatomy, University of Zurich, Switzerland, reports a milestone in medico-diagnostic research of ancient mummies. For the first time ever worldwide, high-quality images of intact historic mummies were achieved through magnetic resonance imaging (MRI) without prior destructive rehydration of the specimen. This significant methodological breakthrough appears in the current issue of the leading general medical journal «Journal of American MedicalAssociation» (Volume 298, issue 22).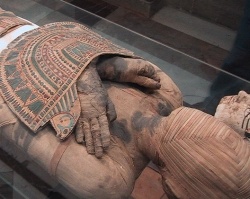 Mummies, unlike skeletons, show preservation of not only hard tissues, such as bone, but also soft tissue, including skin, muscle and internal organs. This allows the unique study of life conditions in the past, as well as the study of the evolution of present-day diseases, through these precious corpses. Due to ethical reasons, so called non-invasive medical techniques (those not harming hard or soft tissues) are preferred for the examination of mummies. More specifically, magnetic resonance (MR) techniques, which allow detailed views inside a body without the use of radiation, are advantageous diagnostic imaging modalities. For the first time ever, the "Swiss Mummy Project", a research unit directed by Dr. Dr. F. Rühli from the Institute of Anatomy, University of Zurich, has successfully acquired MR-based images of ancient dry mummies, without prior rehydration (wetting) of the samples, as part of a dissertation project (H. von Waldburg). These results were possible only through new software developed by SIEMENS Medical Solutions.
On a standard clinical MR-machine, the MAGNETOM Avanto, several Egyptian and Peruvian
mummies and mummy parts (ca. 1,500 BC – 1,100 AD) have been analysed at SIEMENS Medical Solutions, with the help of a so called ultra-short-echo-time-application (UTE). The UTE application allows examination of even extremely dry tissues by MR techniques, which are based on the excitation of hydrogen nucleus, due to a very fast signal detection. By using UTE, e.g. parts of intervertebral discs or other features, such as embalming substances used in Ancient Egypt during artificial mummification processes, could be analyzed with precision.
«This is a medico-diagnostic breakthrough in mummy research. We now have, for the first time ever, another, completely non-invasive, examination method available, which allows us even more differentiate historic or modern dry tissue". Frank Rühli also stated that it is of particular importance that the MR-analyses of these rare samples are possible without rehydration of the material.
UTE-applications may be also be used in forensic medicine and anthropological research in the future. This successful research emphasizes the importance of support of science by competitive third party funding. This research was funded by the Research Fund of the University of Zurich. The official research cooperation between the University of Zurich (Institute of Anatomy) and an industrial partner (Cardiovascular MR Application Development Team of Siemens Medical Solutions, Erlangen, Germany) has also proven most productive. The work has also been supported by ZUSE Institute, Berlin (Germany).
More on the subject:
More on companies: