MRSA, C Difficile, staphylococcus
New, promising methods, tools and tests for prevention and treatments
A recent webinar, hosted by the American Association of Clinical Chemistry, featured doctors Duane Newton of the University of Michigan and Susan Novak-Weekly of Kaiser Permanente.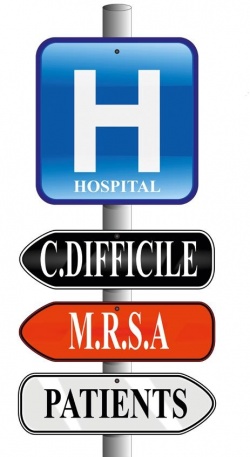 The presentation, entitled Molecular Testing for Methicillin- Resistant Staphylococcus Aureus (MRSA) and C. Difficile (C. diff): 'Using New Tools to Identify and Reduce Healthcare-Associated Infections' (HAIs), outlined the problem of rising rates of these two virulent and possibly fatal infections, possible new testing methods, and suggestions for controlling outbreaks where risk is greatest.
'C. diff and MRSA are healthcareassociated infections,' Dr Newton pointed out. 'They are among the top ten causes of death in any such setting – and all are preventable.' According to Newton, there are up to two million infections caused in the healthcare setting, and as many as 1.7 million related deaths. These include urinary tract, bloodstream, surgical site and pulmonary infections. Dr Newton is not surprised by these risks. 'Healthcare institutions use surgical procedures, injections, and in-dwelling devices, such as catheters, and there are countless sources of contamination,' he said. 'Infection can be passed between provider and patient. And over-use of antibiotics has made this problem infinitely more complicated.'
The USA's Department of Health and Human Services has devised some initiatives to eliminate healthcare- based infections. 'A steering committee was formed at the federal level, and an action plan was published in 2010 that contains clinical, administrative, and governmental directives and strategies to manage this problem,' Dr Newton said. 'Some of their findings seem self-evident, but calling in federal involvement and organising these issues under one agency is a major step toward improving infection rates and bringing new weapons to bear on the problem.' At the clinical level, the committee advised a reduction in the use of medical devices that could transmit infection, as well as increased hand washing and barrier precautions, and antimicrobial stewardship, or personal awareness and caution during testing and care.
The government mandated financial initiatives for improvement of infection rates, increased reporting, and better system-based protocols and approaches. According to Dr Newton, those actions, in addition to increased awareness and improved testing methods, have led to a 30% reduction in C. diff and a 25% reduction in MRSA infections in responding hospitals and clinics. C. diff is the most common cause of hospital-acquired diarrhoea, Dr Novak-Weekly pointed out. 'Cases of C. diff tripled between 2000 and 2005,' she said, 'leading to as many as 15,000 deaths per year. Risks of death increase in older patients, those with prior antibiotic use, and those who experience extended hospital stays.' 165,000 cases were reported between 2007 and 2009, leading to costs of around $1.3 billion and 7,000 annual deaths. Additional reports were issued by the Society for Healthcare Epidemiology of America (SHEA), and Infectious Disease Society of America (IDSA) to suggest clinical approaches for C. diff.
These reports suggest that applicable case definitions and restrictions could be used to conduct surveillance for infection onset. 'Hospitals need to implement antimicrobial stewardship programmes for many other infections as well, in order to prevent drug resistance,' Dr Newton added.
Testing methodology
In response to these reports and government mandates, a flurry of new testing options has been introduced. 'The testing methodology should fit with the hospital's work flow, employee base, and need for speed,' she said, going on to describe new options, such as molecular assays, toxigenic culture, C. diff Complete (GDH molecule and Toxin A/B), and the new LAMP technology, as well as the Cepheid Gene Xpert, among many others. Information is available online explaining the differences and benefits for each type of testing.
'There is no one right answer among these options that will fit every lab or hospital,' Dr Novak- Weekly said. 'Each must evaluate all the variables to make its selection. In 2007, we at Kaiser chose a molecular model test (made by Cepheid), which helps us track C. diff rates both in the hospital and the community. We then report our data to the National Healthcare Safety Network and the California State Department of Health. Because we have several hospitals, our findings give these overseeing agencies an overview of the situation in this State.'
Staphylococcus Aureus (SA) presents as a skin flora or infection of the urinary tract. It is worse when the infection is resistant to methicillin, which is encoded by the MecA gene. 'So new testing options target MecA as a diagnostic marker,' Dr Newton explained. Studies find as many as 300,000 hospitalised patients have MRSA, and that MRSA is 2.5 times more lethal than other infections. Up to 30% of the regular population carries SA, but hospitalisation significantly increases the risk of infection, especially in older people, or those who have been in a care facility,' he added. 'In hospital settings, high-risk admissions include those who admit through the ER, inter-hospital transfers, and ICU, surgical, or burn unit patients.' A key question for administrators and practitioners is how wide a net should be cast by institutions when trying to identify MRSA or C. diff patients. There is no consensus between the CDC or SHEA on exact guidelines to follow, but some issues are clear:
• Enhance routine activities of identifying, reporting, and following precautions during contact with infected patients.
• If infection rates are rising dramatically, active surveillance is critical. Use contact precautions, such as hand hygiene, barriers such as masks, gloves and clothing covers, and do a better job of using the tools at hand to prevent further spread. Report the outbreak immediately to your local agency.
To detect MRSA, Dr Novak-Weekly explained, most new options include chromogenic media or commercial real-time assays. Some platforms use a nasal swab; a new offering from Roche uses heat and glass beads to release the pathogen from the swab. This MagNA-Lyser is FDA-approved and completes the assay in two hours. 'There is no clear choice, as I noted before, in selecting testing equipment for C. diff, and the same is true with MRSA,' Dr Newton added. 'Using culture-based testing, you get lower costs, no up-training for staff, a high throughput of tests, but a slow turn-around time. With polymerase chain reaction (PCR) the cost is as much as five times higher, and special training is required for staff. A culture sample is required, but it works much more quickly.'
'These are serious infections, and can have broad and even fatal impact in a hospital,' Dr Novak-Weekly added. 'Expect more testing options, and guidelines on who and when to test. In the meantime, we recommend you share data with your local agencies and institutions in your area to help you make the right choices with these complex questions.'