Molecular imaging and biomarkers
Discovering the trail to future diagnostics
Whilst Siemens AG in Germany is going through turbulent times, the medical branch of the business remains on steady ground.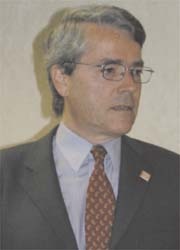 Thanks to a number of acquisitions (the latest, Bayer Diagnostics) Siemens Medical Solutions holds a strong position in in-vitro diagnostics, which not only complements its successful diagnostics portfolio but also represents an important step for future medical approaches, i.e. molecular medicine. Integrated diagnostics and workflow optimised IT solutions are key words, which Siemens Medical Solutions hopes will help to achieve successful synergies for its in-vivo and in-vitro business. Even though molecular medicine is still in its infancy these hopes appear justified.
During a European Hospital visit to the Siemens Medical Solutions diagnostics site
in Tarrytown, New York, and the Molecular Imaging Division in Chicago, Professor Erich R Reinhardt, President and CEO of Siemens Medical Solutions, Tony Bihl, CEO of Siemens Medical Solutions Diagnostics and Dr Wilfried Löffler, Vice President R&D Clinical Systems, met with Meike Lerner to discuss their company's successes, further strategies and future potential in the interaction of the in-vivo and in-vitro business.
Just two days after the appointment of Peter Löscher as new CEO of Siemens AG, in Germany - which caused a big stir - the mood at Siemens Medical Solutions in New York State is relaxed. 'Here in the US we don't feel current concerns as much as they do in Germany; employees are not as sensitised to this subject. However, of course we are happy that the position of CEO at Siemens AG has been filled with a good guy, and hope this will pour oil on troubled water. It goes without saying that Peter Löscher can count on our full support,' Prof. Reinhardt emphasised.
The appointment of Löscher, who has a sound reputation in the medical manufacturing world following his background at GE Healthcare Bio-Science and Merck, is not likely to have an impact on the strategic orientation of Siemens' medical business, Reinhardt believes. 'The subject of health has had a high profile within the company for some time. After the acquisitions of DPC, and Bayer Diagnostics, we are now at a stage where we are consolidating our business. As the new CEO of Siemens AG, Peter Löscher will help us to implement our strategies.'

It is clear where this will lead, he added: '… to optimised and integrated workflow processes in hospitals and to our ability to offer complete solutions in prevention, diagnostics, therapy and care. The first decisive hurdle along the way has already been overcome through successful expansion in imaging diagnostics (in-vivo) with in-vitro diagnostics. The combination of in-vivo and in-vitro is our diagnostic future. Even today, in-vitro diagnostics plays an important role in the clinical decision process, in in-vitro screening for prevention, diagnosis and in-patient monitoring during and after therapy. Around 70% of all diagnostic decisions are based on laboratory results. We already have a considerable number of scenarios where in-vivo and in-vitro diagnostic procedures are combined. For instance, a blood test can indicate malignant tumours at a very early stage, which can then be localised via imaging procedures such as PET/CT. In view of the developments in molecular medicine, in-vitro diagnostics is set to become ever more important. Whereas the market volume for in-vitro diagnostics in 2005 was around ?24 billion, it is anticipated that this figure will be around ?34 billion in 2010,' Tony Bihl explained.

Through the acquisition of Bayer Diagnostics, in particular, Siemens is currently the only provider of integrated diagnostic procedures including molecular medicine. The range of products in the in-vivo area includes ultrasound, CT, MRI and X-ray systems, along with molecular-medical solutions such as SPECT, SPECT-CT, PET and PET-CT. The latest development is a PET-MR machine that will be taken from its point of development in Knoxville, USA to Erlangen, Germany. In the in-vitro field, laboratory solutions for immune diagnostics, nucleic acid determination, clinical chemistry, urine analysis and point of care (POC) diagnostics are available.

Laboratory Automation Systems play a particularly important role in terms of workflow improvement in hospitals, and Siemens Medical Solutions Diagnostics is a market leader in this area. 'With this new range of products we are perfectly positioned for further developments in molecular medicine and can, for instance, control and optimise the development of biomarkers, based on findings in imaging procedures. Moreover, we are facing a change of paradigms in medical technology away from product-specific solutions to disease-oriented solutions. This means that, in the future, it will not be individual products, such as CTs, that will be in demand, but complete solutions for cardiology, which, for example, will then comprise CT or MR in combination with a specific laboratory solution. We are prepared for this change,' said Prof. Reinhardt.

In terms of molecular medicine and an optimised workflow, in-vivo and in-vitro diagnostics are only two important pillars. The third – and most important - are efficient IT solutions that network the processes of prevention, diagnosis, therapy and care and that adapt and optimise the results of laboratory tests and imaging procedures individually for each patient.

Soarian
'The greatest synergies for molecular medicine, and its workflow, lie in the consolidation of existing information. In view of the highly complex matter of molecular medicine, this might sound simple, but its implementation is proving very challenging. Being able to access the right information, at the right time, for the right patient is a great challenge,' said Dr Löffler, who is currently overseeing PET development at Knoxville, and understands the difficulties in handling data from the development of PET hybrid systems.

With Soarian, a Siemens IT solution under development at Malvern, Pennsylvania, the firm believes it is on the right track to tackle that challenge. Soarian, which had its beginnings in HIS and RIS, is an integrated solution that can be expanded step by step. The next step has been the integration of an accounting systems and finally the integration of a laboratory module and a PACS. 'These are all areas that are very stringent, but the combination of these individual elements is difficult to implement because of the sheer amount of non-compatible data. After all, the objective is to combine the information in a meaningful manner, not just to collect it. This means developing schemes that automate clinical workflows,' Dr Löffler explained.

With Soarian, this is already a reality. The next step will be to match diagnostic information provided by in-vivo and in-vitro procedures and so create a joint diagnostic picture - as it were, to develop an intelligent system that automatically delivers a consolidated image for the physician.
These are currently dreams for the future, but the solution is comparable to finding the Holy Grail - and Siemens is not alone in seeking this.
More on the subject:
More on companies: