Mobility without compromise
World premiere of premium ultrasound technology at ECR
One of the most exciting innovations to be presented at this year's ECR (European Congress of Radiology), was be Viamo™. This pioneering product from Toshiba Medical Systems Europe is the first to offer premium technology in an ultraportable ultrasound system without compromising image quality or ease of use.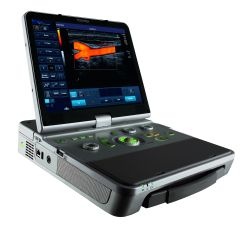 Moreover, the manufacturer introduced Precision Imaging, a further quantum leap in terms of image quality for its best-selling premium platform Aplio XG. Improved image contrast provides even more detail and sharper delineation of layers and boundaries and thus elevates the diagnostic potential of ultrasound examinations to a new level.
With its Viamo, the first premium ultraportable system, Toshiba Medical Systems Europe sets new standards in image quality and convenience of use.
Viamo shares its core imaging engine with Toshiba's premium ultrasound platform Aplio™ XG to provide an unprecedented level of imaging performance. Clinically proven imaging features such as Pulse Subtraction™ or QuickScan have been migrated to this new platform to offer uncompromised image quality.
A dedicated series of Aplio XG transducers with small form factor connectors is available for Viamo. To maximize the value of its customer's investments, Viamo can also connect Aplio XG specialty transducers with standard connector via a cart-mounted transducer connector.
"Our product designers have managed to overcome operability and workflow limitations, which are common problems in comparable devices, without sacrificing diagnostic quality", said Dr. Joerg Schlegel, Marketing Manager with the Business Unit Ultrasound of Toshiba Medical Systems Europe. "Viamo is the first portable scanner that is equipped with a built-in touch screen with dedicated user interface to allow totally seamless and outstandingly comfortable and intuitive operation of the system."
Viamo can be completely operated via its brilliant 15" monitor to ensure seamless workflow and maximal ease of use. The console features only fifteen hard keys which can be folded away when the system is operated in tablet mode.
"The Viamo is a compact and well-designed portable scanner", confirmed Dr. Adrian Lim, MD FRCR, Consultant Radiologist and Senior Lecturer, Imperial College Healthcare NHS Trust and Imperial College London, Hammersmith and Charing Cross Hospitals, London, UK and added "more importantly, the grey-scale images and Doppler are of the high quality that we have come to expect from Toshiba. The screen clearly is the Viamo's 'pièce de resistance'; the manufacturer has revolutionised ultrasound scanners and provided us with an impressive touch-screen panel. This not only simplifies the keyboard but makes this laptop extremely user-friendly. Gone are the times of struggling to find the right key that controls the particular panel on the screen. Now it is ´touch and go´."
As a full-fledged ultrasound system, Viamo is ideally suited not only for all mobile clinical and out-patient applications, but also for physician's offices where space might be an issue - but diagnostic quality isn't.
More than pretty pictures – Precision Imaging sets new standards in image quality
Ultrasound diagnostics at a new level – that's Toshiba's Precision Imaging technology - a multi-resolution signal processing technique that analyses ultrasonic images on the fly and simultaneously at various orders of spatial resolution to separate structure from clutter or noise.
Widespread areas such as organs appear more homogeneous and smooth. Delimited objects like lesions or vessels show improved contrast. And small objects such as contours or layers are sharpened and more coherent.
This innovative technology can be combined with other imaging functions like Differential Tissue Harmonics or ApliPure™+ to provide the user with the highest resolution and the finest detail. Precision Imaging can also be combined with virtually any other imaging mode such as color Doppler or 3D/4D for even greater uniformity within each application.
"Toshiba's existing B-mode enhancements such as Differential Tissue Harmonic Imaging and ApliPure frequency compounding are already essential for our daily practice. Our experience to date with Precision Imaging technology indicates that this method will further improve B-mode image quality and may offer substantial diagnostic benefits", said Dr. Horst Kinkel, Department of Gastroenterology, Akademisches Lehrkrankenhaus, Düren, Germany, who was one of the first radiologists to work with this new feature.
Like the other imaging functions, Precision Imaging is easily accessible through a matrix-programmable rotary key on Aplio XG's concise console - a perfect addition for all those who look for exceptional image quality.
Viamo, Aplio, Pulse Subtraction and ApliPure are trademarks of Toshiba Medical Systems Corporation.
* Precision Imaging is a works in progress and currently not commercially available.

More on the subject:
More on companies: