Mindray's support helps Operation Smile repair facial deformities
Ever mindful of those less fortunate, Mindray Medical International continues to support the children's medical charity, Operation Smile. Each year Mindray sponsors the global organisation to be a part of Mindray's exhibit at the American Society of Anaesthesiology (ASA) meeting.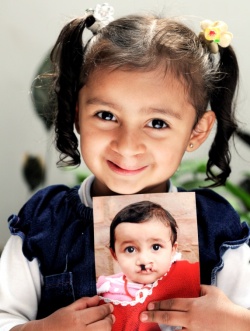 Operation Smile works in over 60 countries to provide free reconstructive surgery for children born with facial deformities such as cleft lip and cleft palate. Founded 32 years ago, Operation Smile's core belief is that no child should suffer or die due to correctable facial deformity. The charity has a network of more than 5,400 medical volunteers from over 80 countries, making it the largest volunteer-based medical charity providing free cleft surgeries worldwide. Since it began, the non-profit organisation has performed over 200,000 free surgeries for patients born with facial deformities, while training doctors and local medical professionals so they are empowered to treat their local communities.
Every three minutes a child will be born with a cleft and a baby born with a cleft has twice the odds of dying before their first birthday. Operation Smile relies on help from volunteers, donors and partners to enhance their existing missions, increase the number of partner countries and enlist more medical professionals.
Lisa Jardanhazy, VP of Strategic Partnerships for the charity commented, "Mindray's support at the ASA meetings has provided us with a great position in the exhibition hall from where we have been able to recruit over 100 new physicians who expressed an interest in volunteering for our medical missions. It also gives us a great platform from which to discuss our work, build capacity and help drive training programmes for local doctors."
Todd Sawyer, manager of Marketing Communication Department, Mindray North America, added, "Mindray is proud to support Operation Smile and its incredibly valuable and visible work around the world. Because of Mindray's close involvement in less developed countries, we understand how medical professionals and technologies can make a huge difference to a child's welfare and quality of life. This is a mission echoed by Operation Smile and its dedicated teams of volunteers. We are pleased to assist them in helping children in this worthwhile way."
For further information contact:
Hannah Noel, Director of PR, Eurocom Healthcare: hannahnoel@eurocomhealthcare.com
Or Mindray International Marketing Communication Office: intl-market@mindray.com

More on the subject:
More on companies: