Mindray - reaching out across the globe
During Medica 2009, Daniela Zimmermann met with Ting Yang, Vice President of International Marketing for the Chinese company, Mindray Medical International Co. Ltd. Their discussion ranged from the company's products to its present and future position in Europe.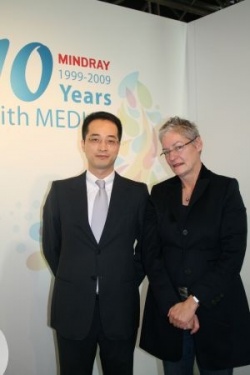 'Somebody at Medica, who is in the market, suggested that Mindray will be one of the top players in delivering Medical equipment in five years. That's very ambitious,' observed Ting Yang, Vice-President of International Marketing for Mindray Medical International Co. Ltd. 'Our strategy is to keep growing globally, and this will really be in two separate territories. One is for developed regions, such as North America and Western Europe – which is a strategy that is totally different from our developing countries plan. We plan to do this by driving our business by our core competencies, which include our strong R&D capabilities as well as our sales and marketing network in and outside China. Additionally, we are increasingly expanding our presence in both America and Europe.'
Whilst conceding that North America is proving a difficult business area at the moment, he pointed out the integration of Mindray's May 2008 acquisition of Datascope's monitoring division is well underway. 'Datascope is one of the patient monitoring leaders in North America,' he explained. 'In the US, Datascope leads in a certain niche market -- the day surgery centre market. We also have a very good infrastructure in North America, where we have a direct sales and service team. They are currently enjoying a rapid response from the R&D team, which is efficiently adding enhancement features and new models. We are also placing our FDA approved ultrasound products in this direct sales infrastructure. This process is happening in both America and in west European countries where we also have direct sales, including the UK, France, and Germany.'
Obviously marketing of monitoring devices and ultrasound machines involves different end users. To cater to this need, Mr Yang said that Mindray is using the existing direct sales infrastructure as well as developing a new sales force to meet the needs of ultrasound users. 'Direct sales do not just mean a team of salespeople, but also include marketing, service, logistics and many other functions. Meanwhile, in the emerging markets, Mindray has been successful in Latin America, South Asia, the Sub-continent, Africa, and the Middle East, where we are growing and extending our business faster than ever. We may open more offices in other large countries.'
Has Mindray not been affected by the global economic crisis? 'In developed countries, no one can dodge the crisis, but in emerging markets, like the BRIC market, sales are rising. Especially in China, we are enjoying the huge investment by the government in the healthcare sector.'

In terms of ultrasound, he explained that the firm is not in the premium level segment -- yet. 'We started with a full range of black and whites, and then we progressed to the low-to-middle class colour Doppler system. Now, we have a full range of middle- to high-end products, but we do not have premium yet.'
One of the firm's aims is to produce a complete range of portable ultrasound units, from low- to middle- and high-end. 'We are probably one of the few companies that have introduced hand-carried colour ultrasound at the first stage. We introduced mobile ultrasound HCU (Hand-Carried Ultrasound) two years ago, and are only one of the limited companies with these products. Now we are adding more HCU models and will launch a second model very soon. This will give us a serious edge in HCU because, from our point of view, this is the fastest growing market. We are growing by double digits worldwide.'
Mindray does not produce CT or MRI devices but does produce digital X-ray: 'We have launched our DR system in our domestic market, and will soon launch this product overseas as it has already received the CE mark. For our ultrasound products, I think the single biggest country in the non-US market is Germany, where we have very successfully provided equipment for general practitioners (GPs) in private sector for about six years. In that sector Mindray brand names are well accepted. Everybody knows us.'
As for the future, Mindray does not rule out possibilities of more acquisitions. 'We could not just say 'No'. We are always thinking of ways to drive our business because, in this dynamic world, the opportunities are always there. China is our home market and is very important. In the past few years, particularly, we have seen trends in the Chinese central government to make a huge investment in the healthcare system. I think we will also benefit from this policy -- as well as in the overseas market -- and see huge potential in the emerging markets.'
Last year, Mindray's revenues topped US$547 million. 'Maybe within the next few years we will reach the billion marks,' Ting Yang added.
Today, beyond China, most of the company's offices are based in Europe – Amsterdam, London, Paris, Milan, Frankfurt and Moscow -- and more locations are planned. In addition, Mindray has an R&D centre in Stockholm. Other firms with divisions or HQ in Scandinavia include Siemens Medical and GE Datex-Ohmeda.
The aim in Europe is to become increasingly localised. In a company photograph taken in 1999, most members of the staff in Europe were Chinese, whereas now more than half are Europeans. 'This is good for us,' a Mindray spokesman pointed out, 'good for the local people, and it is also a part of our contribution to local governments and culture.'
Evidently, Europe is a strong focus for Mindray – and so it promises to continue for many years ahead.
More on the subject:
More on companies: