Premium
Mindray makes waves in ultrasound
At Medica 2015 Mindray officially unveiled to the world its first premium ultrasound system. And with the new Resona 7 platform, the company steps forward as a major player in this fast-expanding field of medical imaging.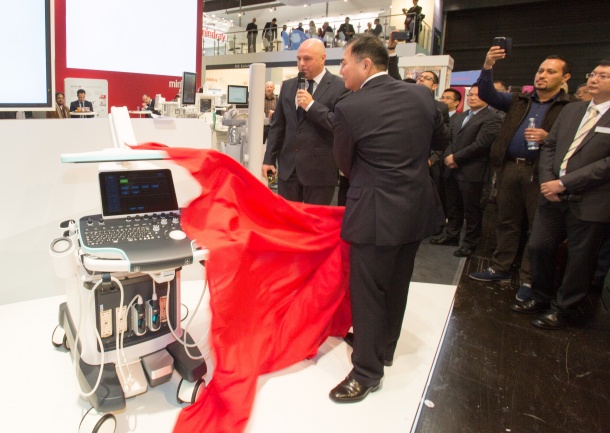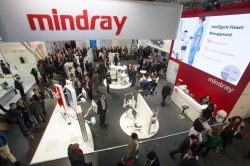 "Until now we have been showing customers how Mindray, as we say, brings 'Healthcare Within Reach,'" said Group vice president David Yin, who is the General manager of International Sales & Marketing. Now with the Resona 7 ultrasound system, he said, "Mindray is reaching forward, reaching the high end for performance with a premium ultrasound system that helps customers to do more."
Powered by a new level of Mindray's unique Zone Sonography Technology, the Resona 7 reaches further with a real plus, an enhanced ZST+ which transforms ultrasound from the conventional signal processing technique of beamforming with an innovative capability for channel data based processing.
The new Resona 7 is the result of synergy between the research and development center in Shenzhen and the Zonare technology center in Silicon Valley, according to Mindray's ultrasound Marketing director for Europe, Willy Luiten. Describing the features of the new system, he said Resona 7 is making waves in ultrasound innovation by integrating multiple functionalities on a single platform, including Advanced Acoustic Acquisition, Dynamic Pixel Focusing, Sound Speed Compensation, Advanced Image Processing, and Total Recall Imaging." Put together in one premium system, these next-generation features, the greater spatial resolution and the greater temporal resolution through ultra-fast frame rates means Mindray is bringing advanced capabilities that give answers to clinical questions."
Resona 7's intelligent and intuitive users interface with a six-direction floating control panel, electronic height adjustment and gesture-based operation provides comfort and ease for clinical professionals.
Also introduced at Medica 2015 was the MobiEye 700, a smart, compact yet powerful mobile digital x-ray system that brings diagnostic imaging to the point-of-care. The Director of International Radiology Imaging Systems for Mindray, Kyle Liu said the system evolved over four years of close collaboration with radiologists, clinicians and patients. "The places where these systems are needed tend to be tight, cramped spaces where there is already a lot of equipment for patient care," he said.
MobiEye 700 is designed to maneuver in this challenging space with a slim 47 centimeter span and push-button remote control for robotic intelligence that makes it remarkably easy to handle. The system can climb slopes up to 12 degrees, and embedded sensors detect any risk of collision or can trigger emergency braking.
Smart power gear assures a 70 kilometer range for the MobiEye 700, and the energy onboard enables up to 700 exam exposures. The system also plugs into conventional electrical sockets and in just two hours is up to 80% power performance. When not in use, the system can remain on stand-by for up to seven days.
Once at the patient bedside, MobiEye 700 enables a radiologist to precisely position the projector thanks to a 1.8 meter arm with eight degrees of freedom. The light-weight, wireless MPX flat panel detector slips easily into any position required for patient comfort during the examination. The compact MobiEye 700 is remarkably powerful with a 460Khz high frequency generator. "It is a fast generator, and with the MPX Csl detector, MobiEye provides the widest coverage area in its class with outstanding image quality," said Liu. "Mobile radiology up to now has been limited by bulky, inefficient systems that were more inconvenient than helpful for clinicians. MobiEye solves the challenges and overcomes these limitations to bring to the point-of-care a powerful, easy to use system that helps achieve highly efficient workflows," he said.
More on the subject:
More on companies: