Smart Platforms
Mindray: A solution for high efficient labs
Mindray is delighted to present you its latest innovations.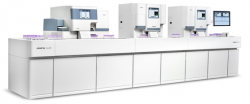 Mindray CAL 8000
With SC-120 slide maker & stainer, Mindray redefines productivity, efficiency as well as reliability of the hematology line in the market. Using unique technology, the SC-120 is able to make blood films, print the patient information directly onto the slides, stain them with different types of staining protocols and dry theirwet surfaces instead of manual work. A total of 120 slides could be processed per hour. The stained slides, ready for microscopy, get loaded in cassettes which are located at the unloading area.By knowing what is customer really wants, the SC-120 ensures the best blood smear qualityand reliability among the competitors.
The MindrayCAL 8000 hematology system combines the hematology analyzer BC-6800 with slide maker &stainerSC-120 into one comprehensive workstation. With the possibility to include upto 4 BC-6800s and upto 2 SC-120s, the system can be scaled-up to meet the workload requirements of even large labs. Manual interruptionsare minimized as the workflow of SC-120 allows user-defined staining protocols and enables userto define decision rules. The resultant efficient workflow and higher reliability of the system, reduceoperating costs as well.
Additionally, LabXpert software makes the routine work in the labs simpler. The users could input their validation rules then the "normal samples" results could be validated and reported directly without any manual interruptions. Meanwhile LabXpert provides an intuitive interface for the users to manually validate the "abnormal samples".

SAL 8000 Modular System
SAL 8000 Modular System delivers high throughput and seamless integration of CL-2000i Chemiluminescence Immunoassay Systemand BS-2000 Modular System. The CL-2000i, with throughput of up to 240 tests per hour, is the new generation chemiluminescence immunoassay system with ALP-AMPPD platform, can provide 36 positions for reagent kits. The BS-2000M is one of the fastest chemistry analyzers in the field, with throughput of up to 2000 photometric tests per hour and 600 tests per hour for ISE, the large capacity of 140 positions for reagent kits and 140 positions of independent sample carousel can support the large daily sample tests. In conjunction with the SPL 1000 Sample Processing System, SAL 8000 not only provides optimized workflow with one-tube sampling for chemistry and immunoassay test, the uniform software interface also offers satisfactory operator experience. Comprehensive test menu, with nearly 100 parameters, make this integrated system suitable for high level laboratories with large test volume.

Mindray CL-1000i Chemiluminescence Immunoassay System
The CL-1000i Chemiluminescence Immunoassay System, with throughput of up to 120 tests per hour, is a brand new system for immunoassay test with new generation ALP-AMPPD platform, targeting to laboratories with small sample volume. The system provides 24 positions for reagent kits, and 60 samples can be loaded at one batch in 6 sample racks, also non-stop sample feeding process is realized by rack continuous loading design; STAT samples priority and flexible operation for rerun/reflex tests is guaranteed. Swing arm touch screen (optional) interface makes it easy for operation and the intuitive software interface will bring very satisfactory experience for the operator. With only ONE washing buffer, operator is free from heavy workload of frequently buffer replacing, also around 33 parameters make this system suitable for laboratories of lower sample volume.
More on the subject:
More on companies: