Microspheres destroy liver tumours
Unlike conventional radiation therapy, selective, internal radiotherapy (SIRT), uses tiny radio-active microspheres to attack malignant liver tumours.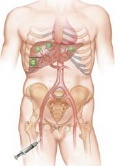 This technique, developed in Autralia, radiates the cancer cells not externally, thereby passing through healthy tissue, but directly inside the liver tumour. Munich University Hospital was the first to introduce this technique to Europe. There, radiologists and oncologists have now treated about 70 patients with SIRT.

Reporting on this development for European Hospital, Guido Gebhart explained: 'SIRT is a minimally invasive therapy, during which radioactive microspheres, made from synthetic resin, are introduced directly into diseased tissue via a catheter passed through the hepatic artery. The microspheres remain within the liver and, during their precisely targeted radiation, the tumour shrinks or is destroyed.' SIRT is reported as being well tolerated by patients. In addition, the healthy surrounding liver tissue tends to recover quite quickly.

The new therapy is particularly suitable for cases where other treatment options, such as surgery or chemotherapy, cannot be considered or have failed. 'SIRT now offers hope for those people for whom previously all other treatment options were exhausted. SIRT has a positive effect on the course of the disease for most patients,' said Professor Maximilian Reiser (above), Director of the Institute for Clinical Radiology.

Over 3,000 patients worldwide have been treated with SIRT, and various studies have confirmed its effectiveness. An Australian study documented a significant shrinking of tumours in 73% of patients.

SIRT is now being carried out at several German hospitals. The medical insurers cover certain individual cases. At Munich University Hospital, the insurers have agreed 30 courses of treatment.