Medical school: Call for sustainable biomedical research funding
Unstable funding is threatening the viability of academic biomedical research, according to a new paper published this week in the journal Science Translational Medicine. The paper was written jointly by the deans of 19 prominent medical schools around the USA. Among this group is University of Maryland School of Medicine Dean E. Albert Reece.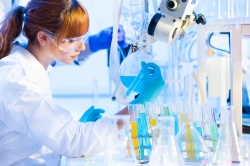 "We must reinvigorate the federal-academic partnership for research across all sciences," the authors write. If the current trends in funding continue, both established investigators and early-career scientists could leave academic research, the authors warn. The situation could also harm our country's position as a world leader in biomedical research, as other countries put more effort and money into their research enterprises.
"The current approach to funding puts our country's scientific leadership at risk," said Dean Reece. "We must do more to ensure that our researchers have the resources they need to fulfill their essential role developing new treatments and therapies."
The paper notes that since World War II, the federal government and academic research institutions have formed a "remarkable collaboration" that has fostered many important research and clinical advances in many areas, including cancer, cardiovascular and neurodegenerative diseases, mental illness and infectious disease. But in recent years, this partnership has come under pressure, they say, because of decreased and variable federal funding, and because academic medical centers face shrinking revenues from clinical care. The authors note that many academic medical centers must treat the most complex and challenging patients, and often must care for patients with little means to pay for the treatment they receive.
It is especially important, the authors say, to provide support to early-career scientists, who are often most vulnerable to the vicissitudes of funding variation.
The authors argue that Congressional action may be necessary, and say that the 21st Century Cures Act could address some of these concerns. This bill, which is now being developed by members of Congress, would authorize regular increases in biomedical research funding, and would include measures to reward innovation in research.
"To provide next-generation health care solutions," the authors write, "we require 21st-century policies that support modern scientific research and development."
Source: University of Maryland School of Medicine