Medical device marketing that works
A report examining the marketing communications channels available to device manufacturers today, by TforG for Encompass Content Solutions, was compiled from results of numerous interviews with device industry leaders, including senior managers in sales, marketing, operations and health care providers – from medical practitioners to hospital staff and hospital administrators.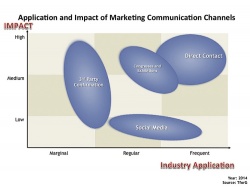 Findings show that in both mature markets (Shift Markets) and emerging markets (Growth Markets), traditional channels – specifically, face-to-face contact by industry representatives, including those on congresses and exhibitions – still represent the most important way to reach customers.
'However,' TforG comments, 'in mature markets particularly, the relevant target audience is broadening to an increasingly diverse group of decision makers, requiring device companies to consider the impact this shift has on content needs, sources and channels.
'As a result, third parties – such as evidence-generating organisations and HCTA institutes – have significantly impacted the decision-making process, while social media maintains a limited application, except in specific situations such as large (patient) communities.
* For a free report download go to TforG (www.tforg.com) and Encompass Content Solutions (http://encompass.transperfect.com).