Measuring tissue stiffness without compression
ShearWave elastography delivers reproducible results
French expert Dr Jacques Souquet PhD, President of SuperSonic Imagine, describes the value and potential of ShearWave elastography, the latest development in ultrasound that enables radiologists to acquire user independent information about tissue stiffness by measuring both, ultrasound and shear waves.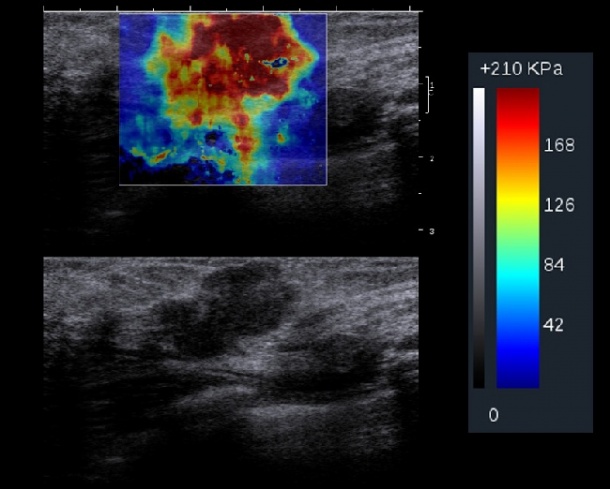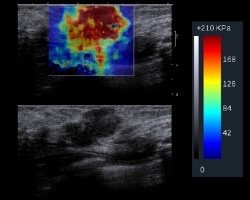 MultiWave technology is based on an interaction between two ultrasound waves in the body: The longitudinal waves or B-mode, which propagate in tissue at 1,500 meters per second and the shear waves, which propagate at 10 meters per second. The speed of a shear wave is directly related to the elasticity or stiffness of tissue and can be quantified in kilopascals with our system. Leveraging the interaction between both waves is possible due to the adoption of the graphic game industry technology that enables us to acquire 20,000 images per second. The results generate bi-dimensional images of true tissue elasticity.
MultiWave technology that includes ShearWave elastography is very different from sono-elastography. Sono-elastography measures the deformation of tissue and relies on manual compression for palpation. ShearWave elastography is user-skill independent because it is based on the simultaneous use of both ultrasound waves and shear waves to assess tissue stiffness. It uses remote palpation to provide an objective assessment of tissue in real time using colour-coded mapping. Additionally, images are reproducible and lesions can be monitored over time.
One of the most important applications where we already have a lot of clinical data is for breast imaging. We are conducting a multi-centre clinical trial with 17 sites around the world (seven in the USA and ten in Europe) with the aim of demonstrating a significant increase of specificity using MultiWave technology compared to conventional ultrasound. To date, we have already completed examinations of 1,000 patients and have a database of around 20,000 images. The preliminary results are encouraging: With MultiWave technology we were able to improve the specificity of examinations up to 94 points. If one looks at the number of biopsies with a negative outcome – after all 80% in the USA – these results become even more important.
Besides breast imaging, this technology is also being investigated for other applications such as musculoskeletal imaging. During the last French Radiology Congress (JFR) we also introduced a new probe for diagnosing the liver. Our next step will be a transducer capable of examining the prostate and then, of course, we are thinking about the cardiovascular field.
There is a wide range of applications where this technology could be beneficial, although it is a new technology the clinical impact is very strong and the advantages have been proven in many sites across Europe. The Aixplorer system with MultiWave technology received CE-Mark in January of this year.

More on the subject:
More on companies: