Liver transplants hit record levels
A record number of liver transplants have been carried out by the Birmingham Liver Teams at Queen Elizabeth Hospital Birmingham and Birmingham Children's Hospital.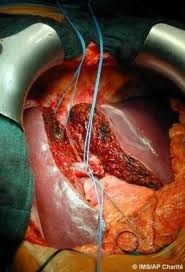 During the whole of 2012, surgeons carried out a total of 199 liver transplant operations – comfortably beating the previous record of 181 which was set in 2010.
And when small bowel transplants are added, which are performed at Birmingham Children's Hospital by the same surgical team, the 200 barrier is broken for the first time. BCH is one of only two paediatric centres in the UK that carry out small bowel transplants.
In all, the record-breaking QEHB and BCH surgeons carried out liver transplants on 165 adult patients and 34 children.
The 165 adults is also a record, with the previous highest being 146, which was established in 2011.
UHB and BCH Transplant Surgeon Mr Darius Mirza said: "The main reason for the increase in liver transplants is that more patients are being referred to us, but there may also be the beginnings of an increase in donor organs.
"It is certainly good news, and encouraging, but there are still too many people on the transplant waiting list."
Peter Ashcroft, Liver Recipient Transplant Coordinator at University Hospitals Birmingham NHS Foundation Trust, said the record total of liver transplants was also due to an increase in the number of donor coordinators nationally.
He said: "There has been a big increase in the number of donor coordinators since 2009/10 and that has helped to increase the number of donors.
"We are also receiving more referrals of patients for transplant assessment. These numbers are also at record levels, but unfortunately there is still a shortage of donors and people are still dying on the waiting list."
Figures from NHS Blood and Transplant reveal that the number of patients in England on the liver transplant waiting list has gone up from 247 in March 2009 to 389 in March 2012.
At the same time, the number of liver donor transplants has increased from 564 in 2008/09 to 609 in 2011/12.
In total, more than 10,000 people in the UK currently need a transplant of some kind. Of these, around 1,000 a year will die while waiting due to the shortage of donors.
For more information, visit www.organdonation.nhs.uk