Article • Multiscale integrative cross-disciplinary imaging
Linking pathology and radiology workflows
Pathologic-radiologic correlation is already utilised in various settings as a tool to assess the interpretive performance of imaging studies and identify radiologic features corresponding to histologic findings.
By Willi L Wagner and Hans-Ulrich Kauczor, from the Translational Lung Research Centre (TLRC), University of Heidelberg, Heidelberg, Germany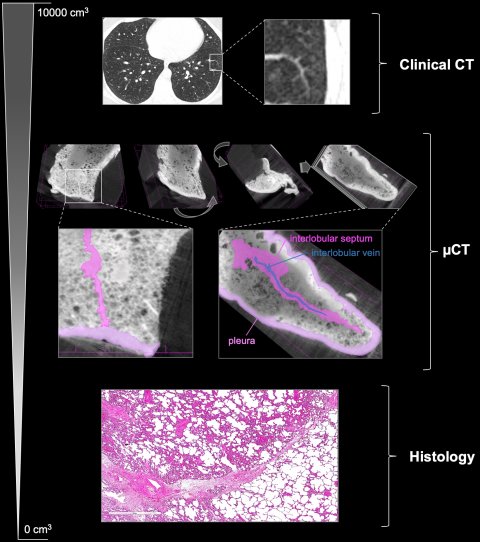 However, correlative assessment is currently limited mainly to the fields of research and quality assurance, and is generally not a routine element of the radiologist or pathologist workflow.
Under the current paradigm of diagnostic medicine, pathologists and radiologists operate as members of distinct disciplines. Diagnostic radiology localises and characterises pathological conditions and informs about clinical-stage and potential comorbidity determinations. Pathology denominates specific lesions histologically while providing insights into immuno-characterisation and molecular features. Hereby, the diagnostic dyad has a spectrum of multiparameter techniques at its command that allow for a scale-spanning assessment from the entire organism over whole body cavities and single organs, or lesions to their forming tissues and molecular signatures of single cells.
In the context of rapidly emerging technical advances in both fields, and the trend to offer ever more specific parameters, the current practice of reviewing separate pathology and radiology reports in the limited setting of the hospital's tumour boards may not be sufficient, because the responsibility to correlate and integrate the diagnostic data all too often falls on the treating clinician.
Diagnosing IPF is often highly challenging
IPF is a specific form of chronic, progressive, fibrosing interstitial lung disease (ILD) of unknown cause and particularly poor prognosis. The committee places ILD experts in a 'multidisciplinary discussion' in the centre of the algorithm for the often highly challenging diagnosis of IPF: 'IPF is diagnosed if the appropriate combination of HRCT patterns and histopathological patterns are present. (If no potential cause for ILD is identified)'. In this setting both pathology and radiology can overturn one another in the diagnosis of IPF. Only a dynamic, integrated interaction between pathologist, radiologist and clinician can specify the biological behaviour and prognosis of complex conditions such as interstitial lung disease.
A convergence of workflows between pathology and radiology may be driven by the need for detailed three-dimensional information on the composition and architecture of surgical specimen and biopsies. Microcomputed tomography (µCT) is a high-resolution X-ray based imaging modality commonly used in industry and material science and is emerging as a powerful tool in preclinical and translational biomedical research.
Operating at the interface of the organ and tissue scale µCT imaging can provide a global map of the excised specimen in a non-destructive manner. Whether used on a fresh, fixed or paraffin embedded specimen, µCT can add useful topographical data that can be mapped back to the radiological in situ imaging studies and serve as a coordinating system for planning the histological work up. Such imaging studies will have to be evaluated both by members of the pathology and radiology department. Such profound diagnostic teamwork on a daily basis would benefit the development of integrated diagnostics.
The increasing digitisation of pathology workflow, from analogue slide microscopy to whole-slide imaging scanners and pathology picture archiving and communication systems, paves the way for integrated cross-disciplinary information technologies. Computational advances based on quantitative digital image analysis, e.g. artificial intelligence and deep learning algorithms, will further break down disciplinary borders.
As medicine becomes increasingly specialised, there is a need to integrate complex multiparametric diagnostic information into coherent representations to establish a diagnosis, determine prognosis, drive patient management and yield efficient medical decision making. Rapid technological advances occurring in both fields offer an opportunity to develop a scale spanning, integrated, diagnostic system that facilitates the synthesis of data produced by both specialties and therefore, improves the overall quality of patient care.
Profiles:
Prof. Dr. Hans-Ulrich Kauczor studied medicine in Bonn and Heidelberg in the late 1980s and then worked as a research assistant at the Department of Radiology at the German Cancer Research Center (DKFZ), returning there later in his career as head of this department from 2003-2007. He completed his doctorate at the University of Cologne and his habilitation at the University of Mainz. He has been Professor for Diagnostic Radiology at Heidelberg University since 2003, becoming Medical Director of the Radiology Department in 2008.
Willi L Wagner is a resident, research associate and assistant lecturer at the clinic for diagnostic and interventional radiology of the University Hospital Heidelberg. His research focuses on the detection and therapy of pulmonary diseases. International activities include medical electives and research stays in the USA and Australia. He has been awarded, among others, the "Rising Stars" scholarship of the European Society of Radiology and the teaching award of the Johannes Gutenberg University Heidelberg.