Large-Scale Switch to Digital Pathology Systems
Ability to tackle escalating workloads and reduce costs underlines appeal
Evolving technologies and market forces reveal that digital pathology is poised to radically affect the daily workflow and activities of pathologists and diagnostic laboratories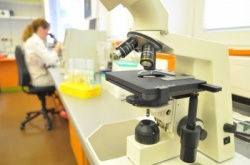 Attracted by the prospect of improved connectivity and reduced overall healthcare costs, most laboratories are anticipated to switch over to digital pathology systems over the next 7-8 years.
New analysis from Frost & Sullivan, U.S and European Digital Pathology Market, estimates the market in Europe to expand from $62.23 million in 2012 to reach $143.59 million in 2019, while the market in the United States is projected to increase from $77.23 million to $205.67 million over the same time period. During this time, a spurt in anatomic pathology will result in the U.S. digital pathology market enjoying a faster compound annual growth rate (CAGR) – 17% – than Europe which will chalk up a slower CAGR of 12.7%.
"In Europe and the United States, pathology laboratories and academic departments have recognised the importance of adopting digital pathology," notes Frost & Sullivan Senior Research Analyst Divyaa Ravishankar. "They are looking to replace traditional microscopes with digital scanners and create the necessary IT infrastructure to support this move."
An escalating workload in many clinical laboratories – anticipated to increase by 8 to 10% each year – is motivating greater demand for digital pathology systems. On their part, vendors are designing high throughput scanners that will meet these ever heavier workloads.
Digital pathology will enable academicians and professionals to have access to a wide range of databases, while saving on the cost of preparing new histological slides.
"Medical images have become increasingly important to surgeons and digital image formats ensure that information is integrated and easily available for diagnosis," explains Ravishankar. "Unlike radiology, surgeons and pathologists make diagnostic decisions with the help of pathology images, which are critical to studying disease progression and monitor and select therapy options."
While the market is promising, several major challenges still loom. The lack of FDA approval for primary diagnosis and a shrinking pool of skilled pathologists are slowing the adoption of digital pathology. Further, despite successes in some parts of Europe, true interoperability and standardisation in digital pathology have been hard to achieve due to the image formats and complex workflows involved.
Strategic partnerships will be essential to pushing market growth. Vendors who provide one or two components for the entire digital pathology portfolio will need to identify the right partner to devise a more robust and complete offering.
"Additionally, vendors should evaluate models that optimally spread financial risk between lab departments or between the manufacturer and the laboratory," concludes Ravishankar. "ROI case studies that highlight the value of integrated digital pathology solutions should also be showcased to end users."
U.S and European Digital Pathology Market is part of the Connected Health Growth Partnership Service programme. Frost & Sullivan's related research services include: HCIT Implementation Business Model, U.S Health Information Exchange Market, Western European Health Information Exchange Market, and European Market for Medical Grade PCs, MCAs, and Bedside Terminals. All research services included in subscriptions provide detailed market opportunities and industry trends that have been evaluated following extensive interviews with market participants.
About Frost & Sullivan
Frost & Sullivan, the Growth Partnership Company, works in collaboration with clients to leverage visionary innovation that addresses the global challenges and related growth opportunities that will make or break today's market participants.
Our "Growth Partnership" supports clients by addressing these opportunities and incorporating two key elements driving visionary innovation: The Integrated Value Proposition and The Partnership Infrastructure.
The Integrated Value Proposition provides support to our clients throughout all phases of their journey to visionary innovation including: research, analysis, strategy, vision, innovation and implementation.
The Partnership Infrastructure is entirely unique as it constructs the foundation upon which visionary innovation becomes possible. This includes our 360 degree research, comprehensive industry coverage, career best practices as well as our global footprint of more than 40 offices.
For more than 50 years, we have been developing growth strategies for the global 1000, emerging businesses, the public sector and the investment community. Is your organisation prepared for the next profound wave of industry convergence, disruptive technologies, increasing competitive intensity, Mega Trends, breakthrough best practices, changing customer dynamics and emerging economies?