Killing copper
Report: Holger Zorn
In Europe, nosocomial infections cause about 25,000 deaths every year. Copper has strong antibiotic effects and may reduce hospital acquired infections.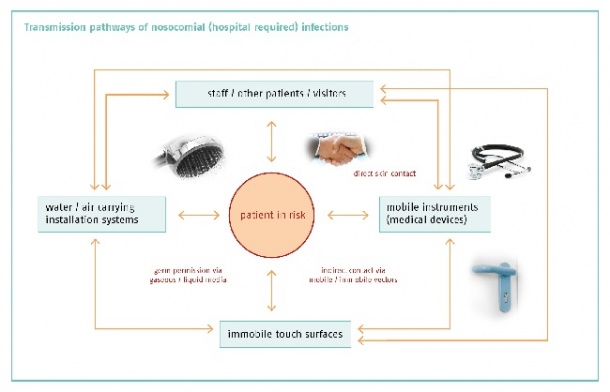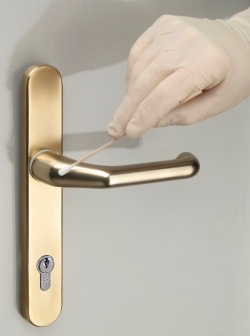 The European Centre for Disease Prevention and Control (ECDC) estimates that, in the EU, about 3,000,000 are infected annually with multidrug-resistant bacteria and about 25,000 patients die from this. Such infections also bring extra healthcare costs and annual productivity losses of at least €1.5 billion. 'The human body is settled by more bacteria than there are people on Earth,' points out Christine Geffers MD, of the German surveillance system for nosocomial infections, which collects data on the frequency of nosocomial infections and pathogens from about 800 of 2,100 hospitals and 586 intensive care units.
An extrapolation from these data yields an estimate of 57,900 ICUacquired infections occurring in this country each year. Roughly 10,000 of patients die as a result. Dr Geffers lists three reasons: The patient's immunity that changes during a hospital stay; the pathogenicity of the agent, and its infectivity. In 85% of all cases, it is the patient who brings in the pathogen; in 15% he becomes infected in hospital. Again 15% of the NCI occur in an ICU, although only 3.4% of patients are in ICUs. Among the device-related sources, mechanical ventilation has the highest risk of infection, followed by urinary catheters and central venous catheters.
A recent study of 119,699 patients admitted for more than two days to 537 ICUs in ten countries, between 1st January 2005 and 31 December 2008, could prove that ICU patients with infections caused by multi-resistant bacteria have a significantly increased mortality. One of the findings – excess risk of death from pneumonia – was 1.7 (hazard ratio; 95% CI: 1.4-1.9) for drugsensitive Staphylococcus aureus; and methicillin resistant S aureus (MRSA) results in an additional risk of death of 1.3 (1.0-1.6) [Source: Lancet Infect Dis (2011) 11:30-38]. There are well proven links. In 2009, Klaus Kaier and a co-worker at the University Medical Centre Freiburg, found that the incidence of MRSA is positively correlated with the use of broad spectrum antibiotics and negatively correlated with the use of alcohol-based hand rub solution [Source: Infect Control Hosp Epidemiol (2009) 30:346-53]. And the ECDC/EMEA joint technical report The bacterial challenge: Time to react shows that resistance to antibiotics reaches 25% or more in several EU Member States – especially in those countries where antibiotics are available without prescription, i.e. over the counter. Thus, surgical washing remains the principal way to prevent bacteria spreading. However, there is an additional promising mean: Copper and its antimicrobial properties.
Noyce and Keevil of the Environmental Healthcare Unit at University of Southampton have studied the effectiveness of copper, brass and stainless steel to reduce the viability of three different air-dried deposits of MRSA strains. On pure copper surfaces, microbes were completely killed within 45, 60 and 90 min, respectively, at 22°C, and within six hours at 4°C. In contrast, via-ble organisms for all three strains were detected on stainless steel after 72 hours at 22°C [Source: J Hosp Infect (2006) 63:289-97]. It seems that 'exposure to copper surfaces rapidly kills MRSA by compromising cellular respiration and damaging DNA, with little effect on cell membrane integrity' [Source: J Appl Microbiol (2010) 109:2200-05]. This and another result from the same authors showing that 'highly toxic E. coli survive for much shorter periods of time on cop-per and brass surfaces than on stainless steel', have prompted considerable interest from hospitals and manufacturers.
Clinical expectations exceeded
At the Asklepios Clinic Hamburg- Wandsbek, two hospital wards were equipped for each 16 weeks in summer and winter with door handles and openers, as well as light switches, made of special copper alloys by Berker GmbH & Co KG. The adjacent areas retained their standard handles and switches from aluminum, stainless steel or plastic. Independent scientists from the Martin Luther University Halle-Wittenberg, Germany, have taken regular samples and compared the number of bacteria on the different contact surfaces. Professor Braun, head of the I. Medical Department at the hospital: 'The results obtained – a reduction of the bacteria by more than a third – gives hope. Contact surfaces, such as handles and switches, made from copper could thus be a useful addition to existing hygiene activities, such as hand hygiene.' Another positive aspect is the trend towards the decline of nosocomial transmission. 'This clinical effect has exceeded my expectations,' Prof. Braun commented.
Mikolay and Nies from the Institute for Microbiology at Martin Luther University Halle-Wittenberg have analysed the samples taken at Wandsbek. During both test periods of 16 weeks, the total number of colony-forming units (CFU) on metallic copper surfaces was 63% of that on control surfaces. The difference was highly significant in the CFU numbers on the doorknobs. In contrast, there was almost no difference in CFU numbers on the push plates, and the result concerning the light switches was between those on doorknobs and on push plates [Source: Appl Microbiol Biotechnol (2010) 87:1875–1879]. 'On copper surfaces copper ions are released in such a high concentration that the cells cannot fight them, even though they have detoxification systems for copper in their metabolism,' Nies explains. Based on those promising results, other hospitals have equipped selected departments, including ICUs, with copper items – amongst others, the Craigavon Area Hospital in Portadown, Northern Ireland, the Cancer Centre at the UMCG Hospital in Groningen, the Netherlands, and the Centre Inter Générationnel Multi Accueil (CIGMA) in Laval, France. In addition, the first manufacturers of medical products have responded.
A proposal from Heyer Medical AG in Bad Ems, Germany, titled New applications for copper/ copper alloy antimicrobial components in medical device', has been selected by the International Copper Association (ICA) as one of six winning proposals – and the only that is not from an university – approved for funding from the more than 100 pre-proposals submitted to the ICA worldwide. Heyer Medical's proposal was subjected to a rigorous screening by copper and technology experts, and it was selected based on a highly feasible research plan and its potential for positive impact on the global use of copper in the medical field. Klaus Schickhaus, president of the company, said, 'The replacing of certain components with copper provides further protection from infection-specific indicator organisms that continue to be a challenge in hospital and clinical environments.' As mechanical ventilation is the highest device-related source of nosocomial infection, the 2009 launched inhalator Heyer maris III contains an aerosol tube made of a copper alloy. Also, the most touched surfaces, the handles, writing top and tray of the new anaesthesia system Heyer Ventor may also made with copper alloys – two products for two of the highest risk areas in a hospital.