Keeping donor organs 'alive' in transit
Although donor organ management is improving, the number of heart transplants is decreasing. According to Eurotransplant, 115 heart transplants were performed in the first quarter of 2011 compared to 149 of such interventions in the same period last year.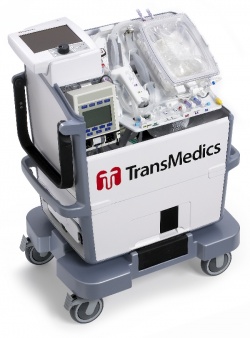 A new, portable, warm blood perfusion system now promises to enable living organ transplants. Using novel technologies Transmedics Inc. has produced the Organ Care System (OCS) to maintain human donor organs in a warm, functioning state outside of the body during transport, thus optimising their health and allowing continuous clinical evaluation.
The system integrates a compact wireless monitor, an organ specific perfusion module, and proprietary solutions for organ maintenance, the manufacturer explains, adding: 'Hearts beat, lungs breathe, kidneys produce urine, livers produce bile.' |In transit, a donor heart, for example, can be connected to the pulsatile pumping system and perfused with warm, oxygenated donor blood and nutrients, thus reducing time dependent ischemic injury.
This not only lengthens the transportation time, potentially expanding the catchment area of a transplant centre, but also enables fully functional, biochemical and metabolic assessment of the organ by the receiving physician and potentially enabling the transplant surgeon time to resuscitate the organ ex vivo to build up its energy stores, optimise its function and perform full viability assessment prior to transplantation.
The OCS may also enable the utilisation of organs currently not used due to the limitation of the existing preservation method.
The device was first used for a beating heart transplant in February 2006 in Bad Oeynhausen, Germany -- where it became available at selected heart centres in 2007.
Meanwhile, the OCS has received CE approval and the series recently expanded to include the OCS Lung transportation device.
In view of discussions regarding the amendment of the organ donor law, this May members of the German parliamentary committee on healthcare, led by Dr Carola Reimann and supported by Professor Martin Strüber of the Medical University Hannover, Germany, visited TransMedics in Andover, Massachusetts, for a first-hand presentation of the Organ Care System.