Sponsored • In-vitro diagnostics
Join Mindray at 2020 AACC Virtual Event
The 2020 AACC Annual Scientific Meeting & Clinical Lab Expo is just around the corner, and this year, we are going virtual!
At Mindray, we are dedicated to empowering TRUST through technology, innovation, and commitment to the advances of science in the in-vitro diagnostics field. Join our virtual community now, and explore Mindray's reliable solutions trusted by laboratories worldwide. You can also get to simulate the DREAM LAB of you own with our interactive game! Don't miss all the fun of learning and exploring!
Read the Informative Clinical Papers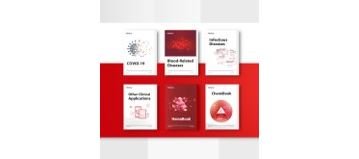 Latest research findings and clinical insights on various IVD hot topics ranging from COVID-19 diagnosis and patient management, blood-related diseases, infectious diseases, to hematology and biochemistry testing.
A lot more to be explored at Mindray's AACC 2020 event site: https://www.mindray.com/en/static/AACC2020.html JOIN NOW!
More on the subject:
More on companies: