Visionary thinking.
JADAK: redefining data collection within the healthcare market
From barcode scanning, RFID and medical machine vision to chart recorders, thermal printers and spectroscopy products, JADAK designs and manufactures embedded solutions that help customers solve unique inspection, tracking, scanning and documenting challenges.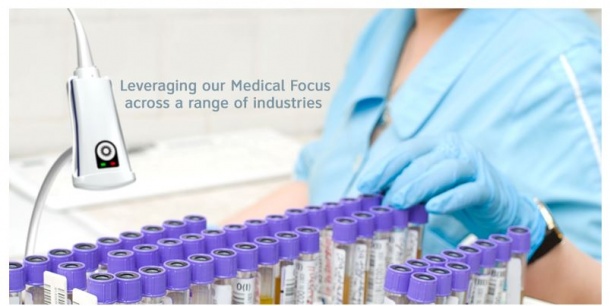 Challenge our experts at MEDICA!
JADAK, Hall 3 – A23
---
As a leading supplier of integrated auto-ID solutions to the OEM life sciences, clinical diagnostics, in-vitro diagnostics, surgical and lab automation industries, our solutions enable complex workflows with a wide variety of applications:
Machine Vision Solutions which enable workflows such as Test Tube Height, Liquid Level Detection, Calibration, Test Tube Cap Detection, Anti-Counterfeiting, Color Detection, Alignment, Test Tube Presence, Lateral Flow Analysis, Syringe Plunger Position, Reagent Pack Authentication, Pipette Liquid Level, ELISA Imaging, 1D/2D Bar Code, Color Measurement.
High-Speed Barcoding products ideal for carousel and manual rack feed applications commonly found in clinical analyzers, life science equipment, robotic systems and kiosks.
Optical Encoders and Directing Drive Motors by Celera Motion, a Novanta sister company, provide precise position control to the most complex machines and instruments in healthcare, life sciences, metrology, robotics, and numerous other advanced industrial and scientific applications.
Spectroscopy products and solutions for color calibration and light measurement.
User Interfaces & Displays: give your analyzer or system a modern look with off-the shelf display modules from Reach Technologies, a new JADAK sister company.
RFID Solutions for authentication, tracking and verification of consumables, reagents and medical equipment, and anti-counterfeiting measures.
Chart Recorders and Printers for data recording and hard-copy verification.
---
JADAK Zone of Difference Video
This video illustrates JADAK's unique system of development for a wide range of healthcare data collection solutions designed to meet the needs of our customers.
---
Consult with the JADAK Vision experts at Medica, hall 3 booth A23!
If using internal engineering resources to integrate bar code scanning, machine vision, RFID, and printing solutions seems daunting, we offer comprehensive services and a dedicated team of engineers with the expertise and experience to meet your project-specific requirements.
For more information, visit us at the Medica event (hall 3, booth A23), our website www.jadaktech.com or just send an email to info@jadak.eu
More on the subject:
More on companies: