Sponsored • Liquid handling
Revolutionising Molecular Diagnostics With PurePrep TTR
With micro-organisms and viruses constantly developing, mutating, and evolving, the world of diagnostics technologies is forced to adapt just as rapidly. To stay ahead of the game, the advancement of laboratory technology and instrumentation that is used for research within the life sciences and biotechnology fields is undeniably a prerequisite for scientific best practice.
By offering high-quality, adaptable, and safe workflows, as well as by maintaining quality, accuracy, and high throughput, MolGen's high-tech systems and consumables are providing professional laboratories with advanced diagnostic solutions that answer their most urgent problems. MolGen's consumables, systems and kits exclusively cater to the industry by allowing for specific customisation of diagnostics workflows to meet each laboratory's needs and are revolutionising molecular diagnostics with its efficiency, price point, reliability, adaptability and safety.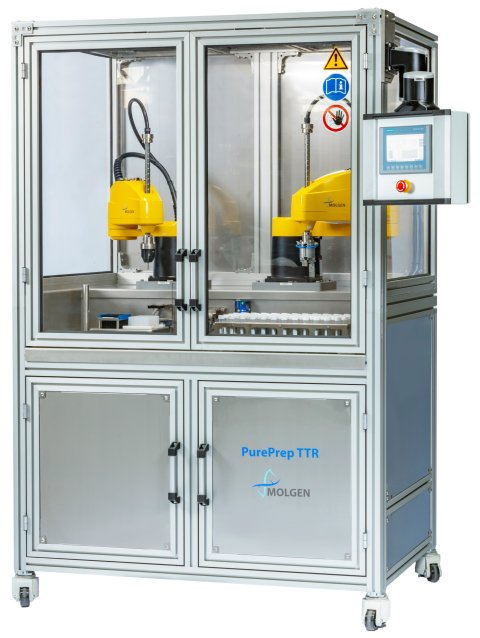 One of such noteworthy products from MolGen is PurePrep TTR. Fully automated, PurePrep TTR is a high-quality, professional-grade liquid handling device that transfers liquid at an exceptionally accelerated rate from tubes to Deep Well microtiter plates with exact precision. Removing the need for manual operation and pipetting, it decreases the hands-on time of laboratory technicians and reduces the laboratory's rate of error. This makes PurePrep TTR the essential tool for the fully automated processing of samples. There are several aspects of this innovative technology that makes this device perfect for a wide range of diagnostic tests and molecular biology techniques.
For large-scale laboratories with high-throughput process, PurePrep TTR comes highly recommended due to its innovative diagnostic workflow. Easy to set up, it is part of a complete workflow, and it is optimised for processing PurePrep TL+ samples. There are many attributes of PurePrep TTR that make it a total and effective molecular diagnostic handling device. Having the capacity to open up and pipet samples from 320 tubes per hour to deep well plate, PurePrep TTR supports an elevated completion process. With its ability to handle the sample size of 50 up to 1000 microlitres, there are sensors at every step that are monitoring each facet of the operation to ensure the results meet the outcome expected by lab technicians. To track and trace the samples throughout the complete workflow, both the tubes and plates are equipped with barcodes that are rapidly read by scanners. With optimised dual-arm design, PurePrep TTR is able to consistently deliver exact liquid transfer to the tubes. In addition to being designed to greatly reduce lab mistakes, this technology also reduces contamination risks within a lab setting as it requires no additional system liquids. And the advanced feature such as a swirl in the pipetting head makes it possible to pipette the sample without having to remove the swab. Furthermore, this modern, innovative system ensures safety and prevents defiling of the sample by decapping and capping tubes. As part of its fully automated process, this device performs pipetting by air displacement and this air displacement is what enables unlimited volume control. With the added liquid level technology, the system is now able to handle tubes with a variation in input volume, increasing the efficacy of the diagnostic workflow.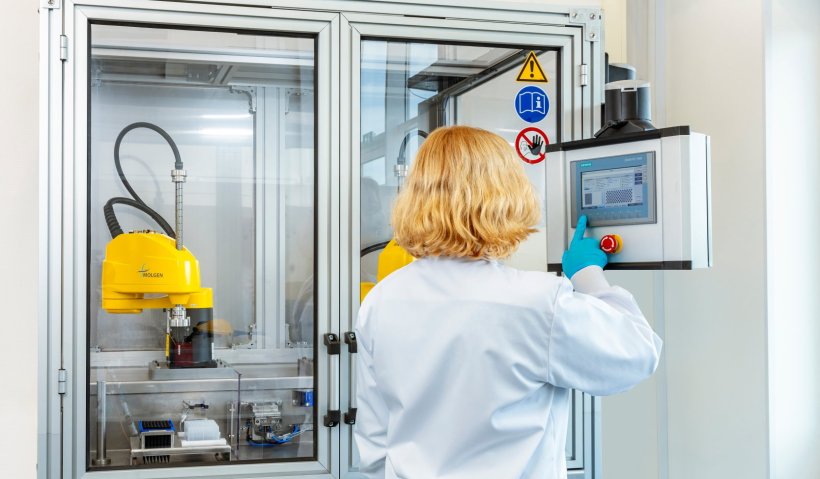 More than consistency and speed, the PurePrep TTR has been designed to be user-friendly. Through the use of an intuitive touchscreen interface, each run of the device can be resumed after any interruption, such as the opening of a door, an emergency stop, or even, when there's a failure of power to the machine. By decreasing hands-on time, and increasing lab accuracy, the PurePrep TTR from MolGen is the most innovative way to optimise the efforts of those on the front lines of virus mitigation, genetics research and other biological condition diagnostics to improve the health and well-being of all.
MolGen is the global solutions provider of innovative extraction DNA / RNA isolation technology, systems, products and kits for human diagnostics, animal diagnostics, agricultural research, aquaculture, pharma and the biotech industry. From sample to result, MolGen offers state-of-the-art molecular purification products and systems that achieve greater efficiency and scaling up in human disease testing and diagnosis. MolGen's portfolio offers the perfect customisable laboratory workflow with high-tech automated systems and consumables. Its extraction and testing solutions, products, and equipment are designed to achieve increased automation, high yields, and reproducibility, and to make working in the laboratory much, much easier.
DM CORP 0016 v1.0 04-FEB-22
More on the subject:
More on companies: