Visionary thinking.
JADAK: advances in Embedded Medical Machine Vision
Liquid level detection is a process used in clinical diagnostics to verify reagents or sample containers in order to assist performance of various tests and ensure accurate results. There are several methods used today to measure liquid level and each come with a unique set of advantages and disadvantages.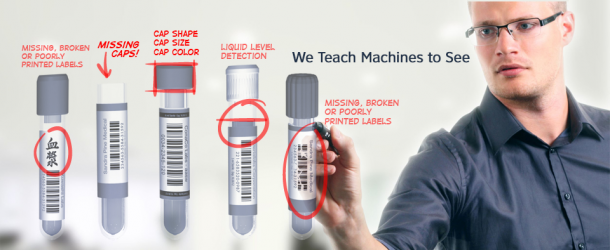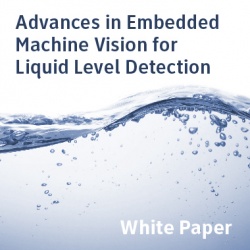 Challenge our experts at MEDICA!
JADAK, Hall 3 – A23
---
Improving Quality of Result and Time to Result in Clinical Diagnostic Testing
A primary challenge is how to perform these tests in a way that does not disturb the contents of the container. Foreign objects coming in to contact with a container, i.e. probes or other system equipment. Any contact with the container can lead to sample contamination, slower time to result and ultimately a less accurate analysis.
Due to recent advances in embedded smart cameras and image processing technology, machine vision has become an effective technique regardless of container type, i.e. test tube, cuvettes, pipette tips or ampoules.
---
The Medical Machine Vision Advantage
Embedded medical machine vision is emerging as a front-running technology for determining liquid level. No technique is without limitations, but machine vision is fast becoming recognized as a uniquely versatile, non-invasive and efficient approach.
With a camera based system, an image of the sample(s) is taken and processed. Therefore, there is no need to remove or puncture the top of the container or come in contact with any part of the container at all. This ensures the purity of the sample and eliminates contamination or breakage of tubes, probes or other system equipment.
Also, due to the camera based nature of a machine vision system, it can be utilized to determine the level of multiple samples at one time. Multiple containers can be imaged in a single field of view and processed accordingly. In fact, advanced methods are being developed that will enable level detection from above for micro-titer trays or other multiple compartment containers.
---
Machine Vision Solutions enable workflows such as:
| | | | |
| --- | --- | --- | --- |
| Test Tube Height | Liquid Level Detection | Calibration | Test Tube Cap Detection |
| Anti-Counterfeiting | Color Detection | Alignment | Test Tube Presence |
| Lateral Flow Analysis | Syringe Plunger Position | Pipette Liquid Level | Reagent Pack Authentication |
| ELISA Imaging | 1D/2D Bar Code | Color Measurement | |
---
With a vision-based system, the level of the liquid can be measured and the tube type could be determined via image processing to give an accurate volume determination on the fly. Imaging can also simultaneously determine the container size in order to give a true volume measurement.
In addition, image based systems afford users the ability to determine layers within the sample. This can be very useful in the determination of the separate layers or blood fractionation that occurs after centrifuging to distinguish plasma, buffy coat and red blood cells.
In some cases a biological sample would need to be agitated as part of the process. This can result in a liquid sample that contains a large amount of bubbles or foam on the top of the sample. Embedded machine vision systems can be engineered to distinguish these occurrences from the coherent liquid layer and, if required, report that back to the system for further analysis.
---
JADAK Medical Machine Vision Video
This video illustrates solutions for Increased Productivity, Faster Throughput, and Reduced Errors in Clinical & Healthcare Applications.
---
Consult with the JADAK Vision experts at Medica, hall 3 booth A23!
If using internal engineering resources to integrate bar code scanning, machine vision, RFID, and printing solutions seems daunting, we offer comprehensive services and a dedicated team of engineers with the expertise and experience to meet your project-specific requirements.
For more information, visit us at the Medica event (hall 3, booth A23), our website www.jadaktech.com or just send an email to info@jadak.eu
More on the subject:
More on companies: