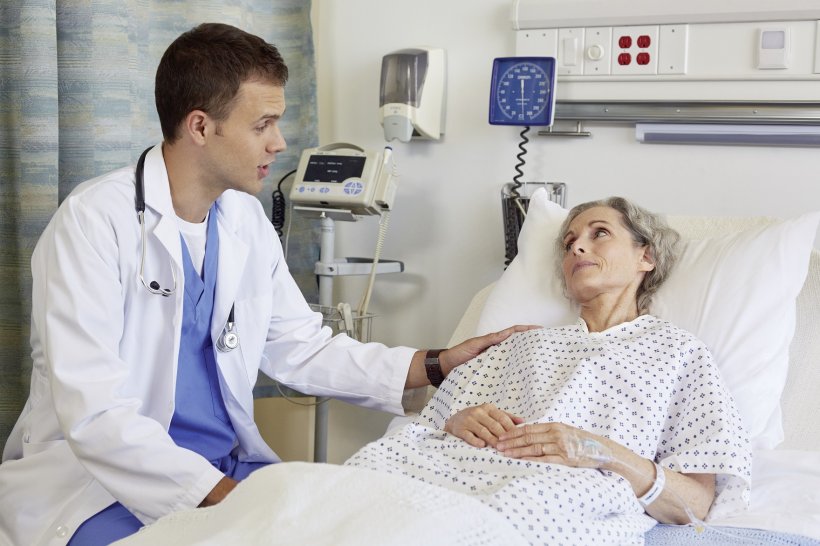 Source: Siemens Healthineers
Sponsored • Lab equipment
It takes a team
Clinical laboratories need to meet greater testing demands, improve efficiency, and deliver reliable, high-quality results, while at the same time, facing an increasing shortage of skilled employees and growing budget constraints.
By: Deepak Nath, PhD, President, Laboratory Diagnostics, Siemens Healthineers
Both patient and physician satisfaction are frequently tied to the time it takes to receive lab test results. In a recent survey commissioned by Siemens Healthineers, about three-quarters of emergency medicine physicians and two-thirds of internists agreed that the turnaround time (TAT) of results drive physician and patient satisfaction. In addition, more than 60 percent of respondents reported that fast TAT provides high value to physicians. Siemens Healthineers brought to market the Atellica Solution, immunoassay and clinical chemistry analyzers for in vitro diagnostic testing, together with a comprehensive and expanding assay menu to deliver results that are timely and precise. The treatment of two particular patient conditions increasingly relying on reduced TAT are myocardial infarction and sepsis. Confidence in the test results is equally important.
Improving TAT without sacrificing quality of results
While institutional protocols influence turnaround time, ultimately, the speed at which labs deliver results is determined by the time it takes to produce a test result. Sometimes assays need to have longer incubation times for optimized performance. Prior to the Atellica Solution, the type of test and mix of tests could impact an analyzer's entire throughput and capacity to produce results in a given time. To accommodate this challenge, some laboratories devote designated analyzers and staff to process assays that require extended analytical times, or STAT assays. Designed with input from such professionals, the Atellica Solution eliminates the need for dedicated specialty or STAT analyzers, and maintains high-quality results, while making the entire process faster and more efficient. The number of analyzers required to achieve the same throughput and turnaround time as current systems was reduced by 33 percent with the Atellica Solution. By reducing analyzers, laboratories free up lab space, avoid acquisition and operational costs, and free technicians previously needed to maintain the instruments to handle other higher value tasks. Additionally, independent sample management capabilities, bi-directional Atellica Magline Transport technology, and dual-ring incubation are helping laboratories to achieve faster turnaround times from 22 to 53 percent. This number is a significant benefit for the lab, and also for its potential impact on patient care.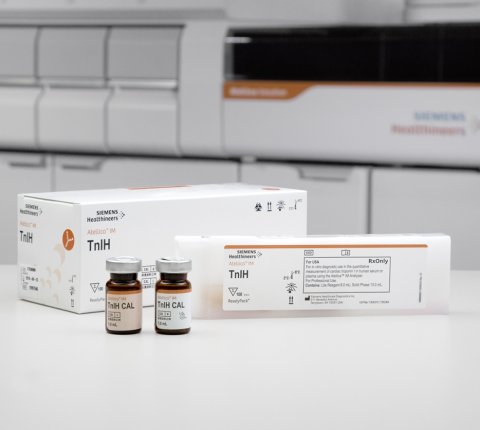 The analytical time-to-result for the High-Sensitivity Troponin I (TnIH) assay on the Atellica Solution, when compared to the predicate system, decreased by 44 percent, with an analytical time of 10 minutes. Heart disease accounts for more than 31 percent of preventable deaths in the EU. Delivering the information clinicians need sooner helps clinicians determine the next steps in a patient's care plan or to exclude myocardial infarctions faster. In addition to the benefits the Atellica Solution affords, the high-sensitivity performance of the Atellica IM TnIH assay offers significantly improved precision supporting a low limit of quantitation, and the ability to detect smaller changes in a patient's troponin level as repeat testing occurs. This design affords clinicians greater confidence in the results with precision that provides the ability to measure slight, yet critical, changes to begin treatment.
Some other high sensitivity troponin assays are affected by clinical confounders, impinging on their ability to provide as accurate and reliable troponin results. Clinical confounders include hemolysis and biotin interference, which can affect accurate diagnosis of AMI. Hemolysis occurs in as many as one in 30 blood draws and requires a redraw of a patient blood sample, adding to the time a result can be delivered. Biotin, a widely utilized vitamin supplement, is a recognized interferent impacting a variety of assay architectures. The Atellica IM TnIH assay exhibits no interference with hemoglobin at up to 500 mg/dL and no interference with biotin at up to 3500 ng/mL. For comparison, a 5th generation troponin T assay may have false results when the sample includes hemoglobin over 100 mg/dL or biotin over 20 ng/mL. With the TnIH assay offering improved sensitivity and precision at the low end of the measuring range, laboratorians can deliver results confidently and potentially reduce the time to diagnosis leading to faster treatment.
Sepsis is another diagnosis that calls for both speed and accuracy. Sepsis can lead to tissue damage, organ failure, amputations, and death if not diagnosed and treated promptly. Early diagnosis and treatment of sepsis is associated with better patient outcomes. The analytical time-to-result for the Atellica IM BRAHMS PCT Assay, when compared to the predicate system, decreased by 53 percent, with an analytical time of 18 minutes.
Overcoming stakeholder concerns to obtain buy-in can equate to better patient outcomes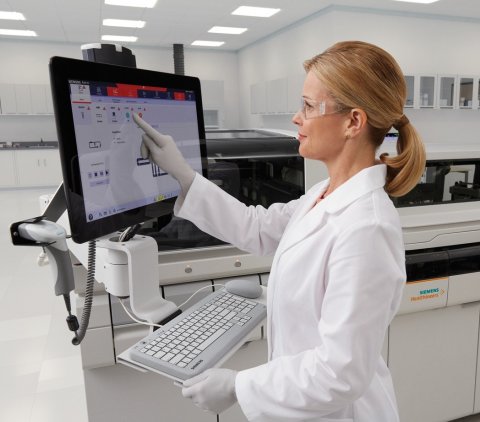 Detecting the presence of disease states sooner arms clinicians with the data they need to properly triage patients faster. However, implementing a change in menu or instruments can be met with hesitation from stakeholders, rather than enthusiasm, especially if the change is significant or requires an adjustment to existing protocols or baselines. Educating physicians, pathologists and other stakeholders on the values that new assays deliver is one challenge labs must overcome when considering introducing new assays to the testing menu. The good news is the majority of stakeholders agree that keeping pace with technological advancements is critical to driving better patient outcomes.
When asked about the impact of the laboratory on the patient experience, physicians and internists widely agree that investment in laboratory technologies is important. More than three-quarters of doctors and lab directors agreed that labs play a vital role in healthcare systems, and that they are a critical component for patient diagnosis and treatment. Further, more than half of the surveyed physicians and internists noted that investments in lab technology could be very impactful on potentially improving diagnoses. About half of physicians and internists thought it could also be very impactful on improving patient safety and patient outcomes.
Engaging stakeholders early in the discussion can help identify points of confusion or objection. Armed with relevant supporting evidence, laboratories can demonstrate how new lab technology and assays can impact clinicians' capabilities and decisions, and expand precision medicine to deliver a better patient experience. Focusing on outcomes that matter to stakeholders and decision-makers during these discussions, such as patient and physician satisfaction and improved care, showcases direct benefits of technology and assay investments. Emerging evidence also indicates that improved laboratory diagnostics can indirectly benefit hospitals by enhancing reputation and revenue: Test results help clinicians determine whether a patient is critical and needs to stay for further observation or whether a patient is healthy enough to return home. With the right assays, freeing beds sooner for other patients could positively impact patient experience, efficiencies in the healthcare system, and institutional revenue.
We can take for example, a cardiac emergency. Overall, cardiovascular disease is estimated to cost the EU economy €210 billion a year. Emergency departments that remain crowded with people who aren't having a cardiac emergency may slow down the diagnosis and treatment of those who really need care. The prevalence rate of non-cardiac chest pain is estimated to be more than 50 percent of all chest pain cases presenting at the emergency department. The majority of the patients seeking care due to chest pain are admitted for in-hospital cardiac "rule out" observation, yet just one-third of the cases are found to be ischemic heart disease. In this instance, expanding precision medicine with assays such as TnIH for acute myocardial infarction brings measurable benefits for hospitals. The ability to diagnose specific
diseases earlier and accurately helps improve the standard of care for patients experiencing heart attacks and chest pain symptoms.
In sum, the instruments and assays found in the laboratory can improve outcomes that matter to many stakeholders. It is often the responsibility of the lab to lobby for upgrades, but all stakeholders should be engaged and educated on the benefits of such advancements. When factors such as the potential revenue impact, demonstrable productivity enhancements, reduction in operational cost, or concerns about impact to existing protocols are addressed early in the process everyone in the health system wins — perhaps, most importantly, the patients. Laboratories might wish to consider the ways the Atellica Solution and its assays can help provide measurable results and align with their most important performance indicators.
More on the subject:
More on companies: