iSite: an insight into advanced healthcare communications
With iSyntax Philips Medical Systems provides a PACS for an advanced medical image and information management system.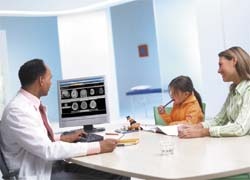 Whilst almost 90% of hospitals with a traditional PACS still print film for delivery beyond the radiology department, others are working with and benefiting from revolutionary advances for healthcare communications. Among these are systems using Philips Medical Systems iSyntax technology, which enables medical teams to have instant access to as many top quality images as they need, over existing networks.The company's iSite PACS is a medical image and information management system that provides enterprise-wide diagnostic-quality images and relevant information, advanced radiology workstations, and constantly on-line storage. The system comprises iSite Enterprise, iSite Radiology and iVault.
iSite Enterprise is Web-based image and data management distribution system that circulates diagnostic-quality radiology, cardiology, dermatology and pathology images plus a patient's record, anywhere in a healthcare network. The system works with standard PCs and networks.
iSite Radiology, designed by radiologists, is a reading station providing full-fidelity diagnostic presentation of current and archived studies and associated clinical information in a single application. Diagnostic image presentation and navigation are separated, improving reading efficiency, Philips reports.
For long-term storage, Philips reports that its iVault is the only permanently on-line medical image archive system that can eliminate bottlenecks caused by pre-fetching, routing, forwarding, off-line media management and ad-hoc querying. 'With integrated RIS workflow, iVault provides a single view of images and information to all users across the healthcare enterprise. The system scales to millions of studies per year and hundreds of concurrent users across numerous institutions. iVault is a single storage solution for the management of all imaging data including radiology, cardiology, pathology, dermatology, and other imaging domains,' Philips reports.
New and archived images can be accessed in three seconds or less. Other advantages of the system are that diagnostic reports and studies can be stored with images; records can be saved to CD or DVD; there are multi-monitor display configurations; there is a remote reading toolset; it has low bandwidth optimisation, and advanced clinical tools.
This system guarantees 99.99% reliability with clustered work list/database servers, replicated RAID-5 network attached storage units for critical image data, and load-balanced 'failover' DICOM servers, Philips adds. 'iSite Enterprise, iSite Radiology, and iVault utilize our proprietary Heartbeat technology. On a minute-by-minute basis, iVault monitors all systems and immediately notifies our 24/7/365 Customer Care Centre of any issues.'
The Disaster Recovery Data Centre's primary mission is to provide HIPAA-compliant off-site disaster protection for clients' imaging data. The company develops an integrated disaster recovery plan so that, in the case of an 'Act of God' disaster, (e.g. flood, fire) the entire distribution system can be brought back on line, with complete restoration of data within 72 hours.
iVault is built with intelligent workflow that provides a system-wide work list and workflow management. The system is based on an expandable array of RAID-5 Network Attached Storage Units - modular architecture that provides scalable storage to support the needs of a single institution or integrated healthcare networks.
Significantly, healthcare clients are offered a pay-per-study deal, and are guaranteed a 99.99% uptime (less than 4 minutes per month).
Because multiple applications are increasingly sought, iSite's flexible programming interface (API) is appreciated, for it enables individual implementation of, for example, i-PACS, an electronic patient record (EPR), computerised physician order entry (CPOE), speech recognition, orthopaedic templating, 3D imaging, and structured reporting.
Financing
'Other PACS vendors recognize 100% of their revenue the first day of clinical use and attach an associated yearly maintenance fee,' Philips points out. 'This model is inherently flawed because, although the system may be correctly specified when the initial contract is signed, specifications change during the term of most PACS contracts: study volumes expand, new sites need to be integrated, and both hardware and software need to be updated. In this scenario, the customer pays for the product before implementation and is ultimately responsible for subsequent unknown costs-making it very difficult for hospitals to understand the TCO of their PACS over the term of the contract.'
Philips' iSite pricing model includes all hidden costs incurred in traditional PACS contracts, the company adds, and implementation is quick, low cost, and '...enables a healthcare institution to adopt the system by transferring operational film dollars on a per study basis. Contrary to the traditional capital model, revenue is earned one study at a time,' Philips points out.
Pilot Programme
A 'no risk' pilot programme, within an agreed-upon period of time, allows each institution to evaluate the technical feasibility and clinical experience of an iSite deployment, giving them a soft copy image management experience before committing to a contract. 'iSite does not have the architectural legacy limitations of older PACS platforms and our solutions are designed to be implemented within four months compared with the industry benchmark of twelve months.'
Additionally, Philips' Heartbeat monitors all systems on a minute-by-minute basis, to anticipate errors that could cause system downtime. In that event, the firm's 24/7/365 Customer Care team work on the potential problem before it becomes a real one. Hardware configurations are Data Centre grade and supported by IBM's 24/7/365 global support infrastructure.
Many hospitals have an Electronic Health Record (EHR) or Clinical Information System (CIS) to store images, manage workflow, and increase productivity. iSite can be embedded into these applications through a powerful Application Programmer Interface (API).
More on the subject:
More on companies: