Sponsored • Fever Detection Camera
Improving Patients and Staff Safety with Non-Contact Fever Checks
In the course of the corona pandemic, hospitals and clinics are facing a serious challenge, as staff and patients are at increased risk of infection. Fever screenings are increasingly being carried out at entrances of healthcare facilities to identify persons with symptoms. Temperature checks are already part of daily operations at many airports.
With its Fever Detection Camera, the German-based company Dermalog has developed a solution that measures body temperatures fast and accurately when walking by. This can significantly reduce the risk of infection spreading.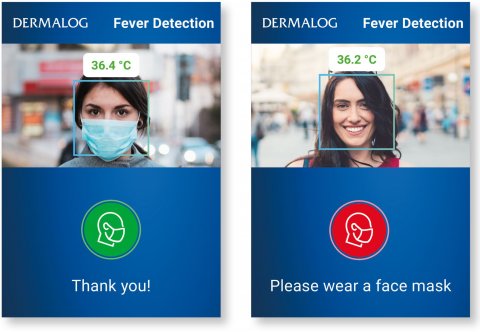 The company's system measures body temperature in real-time by scanning people's faces using state-of-the-art sensor technology. If an increased temperature is detected, the system displays an alert message. High accuracy, even from a distance of up to 2 meters, is another advantage of the camera. As an option, the thermal camera includes automated mask detection. If a person passes the camera without a face mask, the system displays a message informing the person that a mask is mandatory.
Hospitals such as University Medical Center Hamburg-Eppendorf (UKE) and care facilities have implemented the Dermalog thermal camera as part of their health protection measures. The fever detection of the company is already being used in more than 60 countries. The "Made in Germany" system also protects retail stores, offices, event locations, manufacturing halls, sports grounds and many other locations.
For more detailed information about the Fever Detection Camera, visit the homepage or write an email to info@dermalog.com.
Customer feedback
"Fever detection allows us to identify infected persons before they enter the hospital and thus reduce the risk of infection for staff and patients," says Professor Klaus Püschel, chair of the legal medicine department at University Medical Center Hamburg-Eppendorf (UKE), Germany.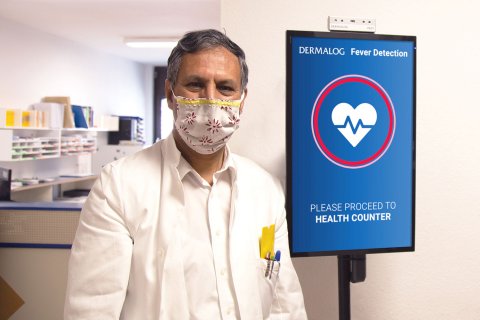 "In recent months, patients have frequently canceled or postponed appointments for fear of infection with COVID-19. Our comprehensive hygiene concept is designed to reduce this fear and minimize the risk of infection. The fever camera has an important role to play here," says Matin Safi, general practitioner, Germany.
"Fever detection is an integral part of our hygiene concept and reduces the risk of infection among our employees," says Professor Nils-Olaf Hübner, head of the hospital's central hygiene department, Germany.
Fever Detection Camera showcases
Thermal camera in operation at hospitals and nursing homes
Fever screening technology in operation at Bundesliga soccer team Bayer 04 Leverkusen in Germany