Improvement to therapeutic effects for seasonal rhinitis
Patients suffering from moderate to severe seasonal allergic rhinitis experience significantly improved therapeutic effects when combining nasal Azelastine spray with Fluticason nasal spray as opposed to using Fluticason nasal spray by itself. Those are the surprising results of a study released by the Annals of Allergy & Asthma Immunology (1) in January 2008. Azelastine is a first-line, H1-blocker antihistamine for the treatment and prevention of allergic rhinitis.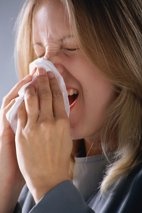 Antihistamines and glucocorticoids represent two effective groups of active ingredients used to treat seasonal allergic rhinitis. Past studies had not been successful in determining any increase in effectiveness when combining glucocorticoids and orally administered antihistamines. Yet the combination of the nasal antihistamine Azelastin (e.g. Allergodil®) (2) and Fluticason nasal spray appears to be quite different, according to the positive results of the randomized, double-blind, multicenter study by Ratner et al. (1)
Study design
151 subjects participated in the two-week study. Following a five-day placebo phase, the patients were treated as follows: the first group took two sprays of Azelastine in each nostril twice a day and a placebo spray once a day. The second group applied two sprays of Fluticason per nostril once a day and a placebo twice a day. The third group, a combination group, took two sprays of Azelastine twice a day accompanied by two sprays of Fluticason once a day. The patients recorded their nasal symptoms twice daily.
Combination most effective
The primary endpoint was the change in the Total Nasal Symptom Score (TNSS). The TNSS separately evaluates the symptoms of runny nose, sneezing, itchy nose, and nasal congestion on a scale of 0 to 4 points and then totals them. All three groups demonstrated statistically significant improvement to their TNSS. The score improved by 27.1 percent with the Fluticason nasal spray alone and by 24.8 percent with the Azelastine nasal spray alone. Surprisingly, however, the combination of both sprays improved the TNSS by 37.9 percent and therefore presents the largest degree of patient benefit out of all test candidates. The combination of Azelastine and Fluticason nasal spray is therefore outstandingly suited for the treatment of moderate to severe symptom SAR symptoms.
Preferred SAR therapy
A topical therapy, such as the combination of nasal Azelastine spray and nasal Fluticason spray, is usually preferred over systemic therapy. This is due to the fact that resorption through the epithelial layer is most effective and is well tolerated. Nasal symptoms quickly decline and the concentration of various inflammatory mediators in the mucus membranes is reduced.