Imaging hip joint replacement
Mark Nicholls reports from ECR 2012
Ultrasound and radiography are helping to identify causes of failures and patient pain from hip joint replacements.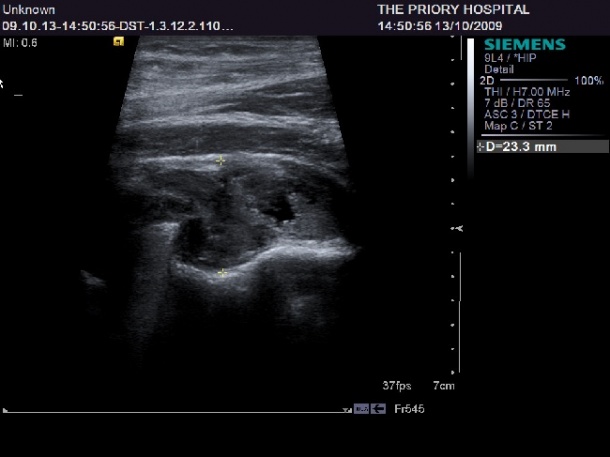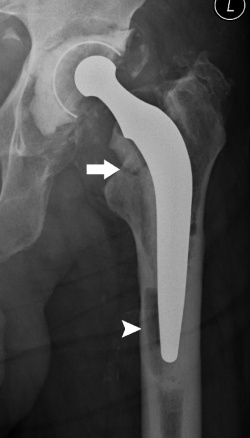 However, CT and MRI are also important in some circumstances, according to experts speaking at the state of the art symposium Imaging Hip Joint Replacement. Consultant musculoskeletal radiologist Dr Steven James (Royal Orthopaedic Hospital, Birmingham) outlined the role that radiography and ultrasound play for such patients. 'There is a great deal of information that we can provide regarding specific abnormalities that can be identified by ultrasound, which is a very powerful tool for this patient group.'
Surgeons across Europe use many different prostheses, he explained. In the United Kingdom the tapered, polished, femoral stem is the most common implant - and the femoral head can be ceramic or metal. While one mode of major failure is dislocation, there are other more subtle problems that need to be identified. To do this, radiologists need to look at serial radiographs for periprosthetic radioluceny. The fixation of hip replacements can either be cemented or noncemented and there can be different abnormalities within each – at the prosthesis cement interface, bone cement interface, or at the prosthesis bone interface.
Other issues can include bone sclerosis, component malposition, acetabular component migration, or the femoral stem can subside. These can be identified through radiography examination, he said. When looking for abnormalities using ultrasound, Dr James stressed that it is important for the radiologist to understand the surgical approach used by the orthopaedic surgeon – whether it was posterior, lateral, or anterior. 'That will give us an idea of which complication we might find. The most common one we may find is the presence of hip joint effusion, which may be an indication of loosening or infection. We can differentiate between fluid and synovium with ultrasound. It's important for the surgeon to know about the presence of a joint effusion because it may be an indication for subsequent joint aspiration.
'The great advantage of ultrasound is that you can ask the patient where the pain is and can identify the pathology accordingly.' Iliopsoas bursitis, iliopsoas impingement and iliopsoas tendinosis can be identified by ultrasound and he added that image guided injection also can be a helpful diagnostic tool. US can also highlight gluteal tendinopathy and various miscellaneous conditions, while for vascular complications he advised the use of colour Doppler. Ultrasound is also useful to identify Adverse Local Tissue Reaction (ALTR). Different implants are associated with different types of this complication and they can be symptomatic or asymptomatic. The session heard that it was important for the radiologist to know which type of implant had been used because some problems are specific for certain implants.
Professor Alain Blum (Centre Hospitalier Universitaire, Nancy, France) acknowledged that radiography is the mainstay tool for identifying hip replacement failure but CT scans are important in showing the shape and density of components and can be used to investigate implant failure and help to analyse the status of the bone. The advantages of using CT, he said, are speed and ease of reading, giving information on the prostheses, cement, bone and soft tissue; it also can be done with low dose, as well as performed in synergy with arthrography. Metal artefact reduction is important in CT scanning of hip joint failure, Dr Blum stressed.
Dr Stephen Eustace (University College, Dublin) acknowledged that MRI cannot replace radiography, ultrasound or CT in the context of hip joint failure but is a safe modality to use. Where it can be a useful tool, he said, is for examining soft tissue and there are situations where it can identify problems that CT or ultrasound may not detect. It is also particularly useful for patients with chronic problems and severe post-operative pain as it can identify deep soft tissue infection. 'MRI is useful and safe in a small number of patients and, when used, may identify the cause of pain and avoid the need for hip replacement revisions.'