Hygiene: Fighting infections
The motive was clear. Lowering Germany's comparatively high nosocomial infection rate – the reason for an amendment to the Hygiene Act passed in 2011 – called for improved hygiene management within the hospitals.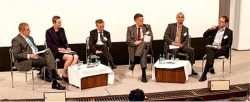 Since March 2012, the law was also drafted at a federal level. Focusing on its implementation into healthcare, at the 2nd Berlin Hygiene Symposium in May, experts confirmed one issue in particular – the acute current and foreseeable lack of infection prevention and control staff, EH correspondent Bettina Döbereiner reports
According to statistics from the Initiative for Infection Prevention, around half a million people contract nosocomial infections in German hospitals every year, with a fatal outcome for around 15,000 people. An estimated 4,000 of these fatalities could be avoided through improved hygiene. That is not only tragic but also causes high costs for all involved. Therefore, the tenor at the symposium which was organised by the Initiative for Infection Prevention and a Healthcare Training Institution was clear: Even though the amendments to the act present great challenges for many hospitals, all speakers on the podium welcomed the new law.
The biggest challenge is the staff issue: All hospital representatives present stressed the major difficulties involved in supplying specialist infection prevention and control staff by 2016 as required. The regional hygiene guidelines envisage that each hospital should have at least one doctor specialising in hospital hygiene – and for hospitals where the number of beds exceeds 400, this specialist should be employed specifically for this purpose on a full-time basis – along with qualified infection prevention and control nurses. However, so far, many of these prospective specialists have not even been trained – neither doctors nor nurses.
Dr Claudia Brase, Managing Director of the Hamburg Hospital Association, emphasised the difficulties of recruiting appropriately qualified staff: Although more provision has been made for continuing education in Hamburg, for instance, it is not necessarily easy to attract enough applicants with the right competencies, particularly regarding communication. These specialist nurses must organise and control hygiene and hygiene measures across hospital wards in cooperation with a specially trained doctor.
Clinicians from other German federal states, such as Prof. Axel Kramer, Director of the Institute for Hygiene and Environmental Medicine at the Ernst-Moritz-Arndt University of Greifswald, see the main problem in the ability to recruit doctors appropriately qualified in hospital hygiene.
The background for this shortage: 'Over the last two to three decades Germany has abolished 15 academic chairs for hygiene.' Currently only 12 remain. Aiming to provide the necessary qualifications, additional training for specialist was quickly developed last year – although, strictly speaking, those posts were only supposed to be filled by specialists in hygiene and environmental medicine or microbiology – even this additional specialist training will not be enough to employ the nationally required number of at least 450 hygiene specialists by 2016, Prof. Kramer believes.
This is also to do with the doctors' motivation or, rather, lack of it. 'If someone has trained to become a surgeon they want to work as a surgeon; the same goes for anaesthetists and so on,' he explained. A specialist is only likely to opt for this type of further training in great exceptions. Therefore, he is looking into high quality, interim solutions, such as a concept where doctors specialising in hygiene initially look after several hospitals at the same time to begin with, even if these have more than 400 beds.
'In the long run, it will be indispensable to reinstate the academic chairs for hygiene in order to teach specialist hygiene skills to medical students, as well as to expand scientific research into hygiene issues. Therefore, the professor clearly appealed to governments of the German federal states and the universities to preserve and promote hygiene as a subject.