Home monitoring for cardiac patients
The St. Lucas Andreas Hospital in Amsterdam-West, the first in the Netherlands to begin the daily remote monitoring of cardiac patients at home, is using the Philips Motiva system. About 100 patients will be involved.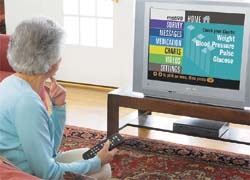 Due to fluid retention, those with chronic heart failure run the risk of serious complications, such as shortness of breath and cardiac arrhythmia, so weight and blood pressure must be monitored by patients daily. A rise above a certain level should be reported to the cardiac consultant to ensure necessary action. However, many inform their doctors too late so then must be rushed to hospital either to see the consultant or be admitted or re-admitted. Home monitoring should be able to prevent those emergencies.
Using a broadband connection, the Philips Motiva system sends weight and blood pressure data to the hospital daily, from a specially adapted weighing scales and blood pressure meter, which the patient keeps at home. In the near future this data also will be sent to the general practitioners (GPs) concerned. If readings are too high, the system gives a warning signal and doctors can intervene immediately.
At the St. Lucas Andreas Hospital, Dr J Schroeder-Tanka said: 'By continually monitoring patients at home they don't have to come as often to the hospital for check-ups, which greatly improves their quality of life.'
Via remote monitoring the cardiac failure patients can also receive relevant information on diet and lifestyle, for example, instructions on how to deal with fluid retention.

Further co-operation
The optimum use of remote monitoring for patients with cardiac failure is being further developed by the cardiology team at St. Lucas Andreas Hospital in co-operation with Philips Healthcare Benelux. 'Philips is the leading supplier worldwide of cardiology equipment for use inside and outside the hospital. This partnership fits in with our goal to extend care from the hospital to the home, where we see opportunities both for lowering the cost of such care and improving patients' quality of life,' commented Bas Verhoef, general manager of Philips Healthcare Benelux.
This healthcare innovation in the St. Lucas Andreas Hospital is supported by Agis Zorgverzekeringen health insurers and the healthcare insurers' association, Zorgverzekeraars Nederland.
More on the subject:
More on companies: