Sponsored • Gastroenterology
Fujifilm reinvents high-end endoscopes
Two technologies from consumer electronics are at the core of a next-generation endoscope that throws a new light on exams in gastroenterology.

Report: John Brosky
Light emitting diodes (LEDS) and complementary metal oxide semiconductor (CMOS) cameras can be found on a billion smart phones internationally. Fujifilm Medical Systems is the first to introduce them on a flexible endoscope, the Eluxeo 700 Series.
LED is a new light in the closed, dark world where gastroenterologists work. The industry-standard for all other endoscopes is a xenon light source.
The firm's innovation in applying everyday LEDs is to use four independently controlled light sources, each responding to a specific wavelength across the spectrum from blue-violet at 400 nanometres up to red at 650 nanometres.
The ability to alter combinations of spectral wavelengths at the source splits radically from a decade that has seen the widespread use of light filtering to enhance contrast levels and aid clinicians in distinguishing neoplastic lesions from healthy mucosal tissue.
'This is a next generation endoscope, the first with specific spectral settings to target mucosal layers, and also the first to use CMOS technology,' explained Jacques Bergman MD, a specialist in gastroenterology and endoscopic intervention at the Academic Medical Centre in Amsterdam, the Netherlands.
'LED excitation is new, instead of xenon light in a fibre running down the endoscope, and four light sources presents enormous potential for investigating ways of highlighting disease.'
Endless possibilities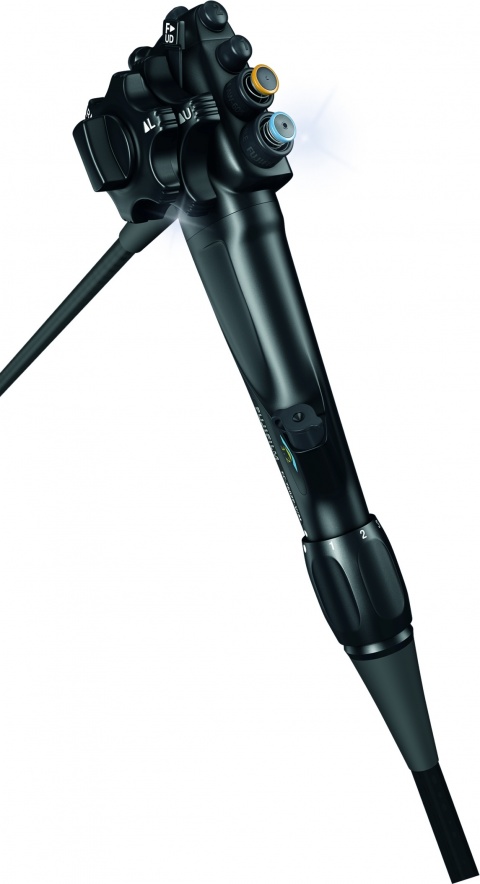 Bergman believes there is no end to the possibilities for this system. 'These are very promising tools for the assessment of GI diseases,' added Emmanuel Coron MD, from the University Hospital Nantes, France, 'and we should validate the clinical impact of this technical achievement.'
In February 2016, a paper published in Clinical Endoscopy directly compared filtering a single xenon light source against combinations of the technologies used by Fujifilm; it demonstrated that filtering light limited the ability to distinguish lesions distant from the immediate view of the endoscope camera, but that by adding a greater intensity of white light, while boosting hues in the red region of the spectrum, microstructures as well as microvasculature were highlighted.
The short wavelength of blue light LED illumination corresponds with the light absorption of haemoglobin at 410 nanometres, which is why microvasculature shows up more brilliantly.
The variable LED combinations can also increase contrast in the 650-nanometre wavelength, which improves detection of inflammation or the delineation of tumour margins.
The Eluxeo offers push-button switching between three pre-set modes for white light, blue light illumination (BLI) and linked colour imaging (LCI), each holding advantages for detecting, characterising and delineating the margins of diseased tissue.
'The BLI created by four LEDs provides a high contrast in white light and I believe the contrast enrichment with BLI is the future, said Helmut Neuman MD, University of Mainz, Germany. 'But also, by using this CLI imaging mode, white becomes even more white, while red gets more red, and this becomes a very interesting technology for the early detection of lesions and delineation before performing an endoscopic therapy.'
With a useful life estimated at almost 10,000 hours, LEDs should also prove to be more cost-effective than xenon lamps that need to be changed after 500 hours, according to Ronald Grieger, head of the endoscopy marketing group for Fujifilm Europe.
More on the subject:
More on companies: