Fly-Thru examination
The ability to 'fly-thru' organs with 3-D reconstruction is the leading edge for new ultrasound features on board Toshiba's new Aplio 500, John Brosky reports.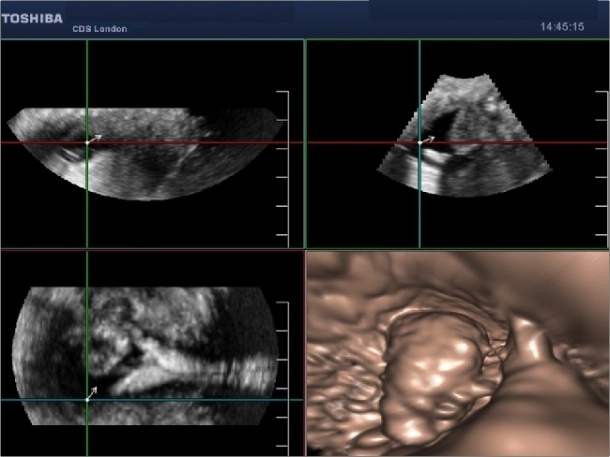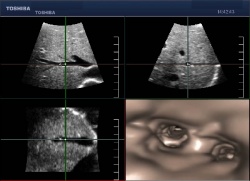 Radiologists have simply never seen such views of the human body. Using advanced processing for 3- volume data acquired by ultrasound, clinicians can now 'fly through' the inside of ducts and vessels to explore lesions and masses. In less than a minute of processing time, radiologists can enter a breast duct or internal organ with an endoscope-like view and then move to regions of interest for a greater understanding of the morphology.
The impact on planning for interventional procedures was clear, but other clinical applications of this unique adaptation of 3-D/4-D images on Toshiba's Aplio 500 ultrasound system have yet to be explored. An example is an early publication, Advanced Transvaginal 3-D/4-D Imaging of the Uterine Cavity Paves the Way for Ultrasound Hysteroscopy, by Bill Smith, Head of Ultrasound for Clinical Diagnostic Services in London. 'The fly- thru capability has stirred a lot of interest and everyone has ideas about how to use what is an entirely new way of looking at the body,' said Christoph Simm, Senior Manager of Ultrasound for Toshiba Medical Systems Europe.
More immediately, clinicians are ready to apply a second new capability on board the Aplio 500, Smart Fusion, which merges and then synchronises both CT and ultrasound images sideby-side on a single screen. The ability to locate hard-to-find lesions provides key advantages for ultrasound-guided biopsy without additional CT scans. Jean-Michel Correas has the edge on fellow radiologists in assessing the clinical impact of the advanced ultrasound capabilities on the Toshiba Aplio platform. An interventional radiologist at the Necker University Hospital in Paris, he had an early opportunity to apply what he called 'major advanatages' to his patient treatment. 'These are all real-life cases,' he said presenting his findings during a symposium at the ECR. Visualisation is the critical issue for complex interventions, he said, reporting that the Aplio 500 delivered 'better diagnosis, treatment planning and follow up assessment.'
Critically, the high spatial resolution and contrast proved superior for tracking needles and electrodes during treatment, enabling precise placement of tips, as well as the detection of isoechoic lesions that were not visible during treatment planning. Ultrasound is not the unique tool for interventional radiology and the advantages of CT are essential for mapping the anatomy. However, the enhanced capabilities of ultrasound make it indispensible for guiding treatment with its array of techniques for visualisation that include Doppler for vessel identification, contrast enhancement for vascular activity of tumours, and imaging fusion for realtime guidance.
'Perfusion is the key to diagnosis, and now we have perfusion with ultrasound,' Thomas Fischer MD, from Charité Hospital in Berlin, told symposium participants. Though using the same contrast agent as with other ultrasound exams, the enhanced performance of the nextgeneration Aplio platform shows 'very well, very visibly' the vascularisation changes as a result of tumour therapy or a case of bleeding from a puncture. 'These are only visible thanks to the new technology,' he said. Dr Fischer applied the same agent used for any contrast-enhanced ultrasound examination, Christoph Simm pointed out, but there is a greater sensitivity on the new Aplio 500 platform and new algorithms for processing the ultrasound signal that generate sharper resolution for aiding diagnosis.
Other advanced image processing features on the Aplio 500 include Tissue Specific Optimisation, Precision Imaging, Differential Tissue Harmonics, and Advanced Dynamic Flow. The system also offers a full range of features for Toshiba's Productivity Suite with workflow automation tools and ergonomics that include a 19-inch LCD screen with a handle for easy repositioning, adjustable console for convenient patient access, and lighter weight and smaller footprint. As Christoph Simm said, workflow may seem boring after fly-thru visualisation, but along with image quality, it remains the critical feature for clinicians working in a busy ultrasound department.
More on the subject:
More on companies: