First human ultrahigh-field MRI installed in the Netherlands
The Virtual Institute for Seven Tesla Applications (VISTA) is a partnership of several Dutch universities. To evaluate the benefit of ultrahigh-field MRI the first human 7.0T whole-body research scanner, supplied by Philips Medical Systems, was installed at the Leiden University Medical Center (LUMC). Roland Plasterk, the Durch minister of education, culture and science, attended at the opening ceremony.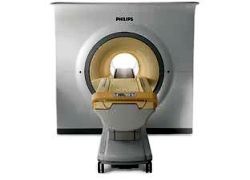 The ultrahigh-field MRI offers a significant increase in signal-to-noise ratio and has potential to improve the diagnosis and treatment of degenerative neurological diseases, such as Altzheimer's, Parkinson's or multiple sclerosis. Scientists could also be able to get a better understanding of brain function and cognitive processes, as well as the development of stem cells and malignant tumours. Collected data could even be used for drug-development.
The VISTA research network faces the rising demand for ultrahigh-field MRI while keeping the costs for installtion and maintenance low: In a collective network model the University Medical Center Utrecht is going to install a 7.0T Philips-system, too, while the F C Donders Center / University Medical Center St Radboud in Nijmwegen has access to a Siemens 7.0T system at the University of Duisburg / Essen in Germany.
But technological innovation in MRI could be hindered in future as the EU Directive 2004/40/EC for Physical Agents (EMF), intending to protect the health of clinical and research staff who come in contact with EMF, must be incorporated within the legislation of EU member states by April 2008. These guidelines could lead to restriction in the use of high-field and ultrahigh-field MRI scanners. MRI researchers hope that the politicians in Brussels will delay the EMF directive for further evaluation.
More on the subject:
More on companies: