Article • MHH SARS-CoV-2 Antigen Rapid Test Kit
First Covid-19 test 'made in Poland'
To date, testing for SARS-CoV-2 infection mostly has relied on RT-PCR performed on a nasopharyngeal specimen. This testing method is very unpleasant for a patient: the professional tester has to tilt the patient's head back slightly about 45°-70° to straighten the passage from the front of the nose, insert the swab through the nostril parallel to the palate, and the swab should reach a depth equal to the distance from nostrils to the outer opening of the ear. Then the tester must gently rub and roll the swab, 3-4 times and leave it in place for several seconds to absorb secretions. Finally, he must slowly remove the swab while rotating it and insert the swab into the extraction tube. Such a procedure is unpleasant for a patient, and could be very dangerous, for example, possibly breaking the swab somewhere in the head.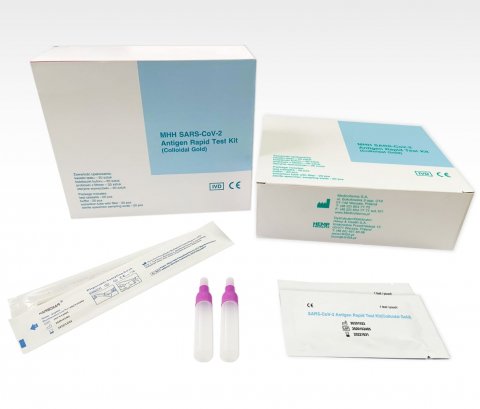 Luckily for patients, in late 2020, the WHO and, in January 2021, the EU member states agreed to recommend the use of rapid antigen tests to recognise Covid-19 test results across the EU. Key components of this recommendation include the validation and mutual recognition of rapid antigen tests, and RT-PCR tests among member states, sharing a standardised set of data (through a digital platform).
The WHO and European Council widened the recommendation of rapid antigen tests that are easy to use and offer rapid results at low cost, and are more convenient in usage for patients. By now all rest rapid tests are dedicated for professional use only and for in vitro diagnostic use only, but they differ depending on the maker.
In January 2021 the first Polish test was launched on the market. This, the MHH, is equally owned by Polish companies Medicofarma, its manufacturer, and Hemp&Health, publicly listed on Warsaw Stock Exchange, the test's global distributor.
MHH SARS-COV-2 Antigen Rapid Test Kit is pending EUL WHO listing, and meets brand new standards, Medicofarma reports:
The tube is pre-filled with an extraction buffer
The swab is breakable, so is much safer for professionals to use
The swab tip needs insertion only up to 2.5 cm (1 inch) from the edge of the nostril (self-testing ready: registration pending).
Test results can be read in 15-20 minutes. The test can be stored at 2~30°C in the sealed pouch. The test cassette must be used within one hour of removal from the aluminium foil bag.
Options for buyers cover positive and negative control swabs, and a quality control certificate to each production batch.
To test performance of the kit, 492 nasal swabs were taken from patients with suspected COVID-19 and conducted, during daily clinical practice, between October 2020 and January 2021. The kit showed a diagnostic sensitivity of 98.13 percent and a diagnostic specificity of 99.22% compared to the RT-PCR results. The accuracy is 98,98%, Medicofarma reports. 'MHH tests are also detecting new virus variants B117 (Great Britain), B1351 (South Africa) and P1 (Brazil).'
Source: Medicofarma