European debut for Acuson S2000
Siemens Healthcare will show its Acuson S2000, the first ultrasound system in the new product series S, at the ESC*. The system platform includes integration of the newest technologies to optimise workflow, e.g. comprehensive software applications such as new software for breast imaging.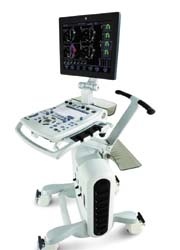 The system is also equipped for future technologies: It enables the implementation of innovative ARFI (Acoustic Radiation Forced Impulse) imaging and is prepared for integration of new silicon ultrasound technology, which is almost ready for the market, Siemens points out. 'The Acuson S2000 is suitable for internal medicine radiology imaging including vascular diagnosis and echocardiography as well as gynaecology and obstetrics.'
ARFI ultrasound compresses tissue using acoustic energy, enabling qualitative and quantitative evaluation of the stiffness of deep tissue. Current research indicates that this type of evaluation can be helpful in differentiating abnormalities such as liver tumours, or quantifying the advancement of fibrosis (development of excess connective tissue), Siemens explains.
The Acuson S2000 is already designed for integration of future silicon ultrasound technology, the first groundbreaking development in probe technology in over 40 years. This uses the precise procedures of semiconductor production and realises isotropic 3-D and 4-D ultrasound imaging for the first time, which offers the same true-to-detail representation in every direction.
'We believe that the ARFI and silicon technologies will change ultrasound imaging as extensively as Doppler imaging did in its day,' said Klaus Hambüchen, CEO of Siemens Ultrasound Business Unit.
Siemens is also preparing the Acuson S2000 for Automated Breast Scanning (ABS). This method provides automatically created, reproducible 3-D ultrasound volumes of the breast. ABS is important for screening, early detection, diagnosis and aftercare for breast cancer and complements mammography, especially for women with dense breast tissue. Compared to manual breast ultrasound, ABS shortens the examination time and reduces user dependency. This makes ultrasound imaging more reproducible and provides more uniform results than before, Siemens explains.
Innovative applications of the Acuson S2000, e.g. 'SieClear Spatial Compounding', also increase the reliability of a diagnosis. 'One push of a button allows highlighting of anatomical boundaries and improves tissue contrast as a whole. Simultaneous use of the Dynamic TCE technology reduces speckle patterns and noise signals and ensures excellent image quality, even in difficult cases. For the first time the Acuson S2000 will use this 3D TCE with speckle reduction to acquire 3-D images. The High Density (HD) probe technology also results in exceptionally fine signal levels for excellent depth and contrast resolution,' Siemens adds.
The Acuson S2000 also integrates knowledge-based applications, for example the syngo Auto OB software, which creates semi-automatic biometric measurements of a foetus and saves the operator up to 75% of the stages in a routine examination. Advanced-fourSight technology provides improved functionality for volumetric acquisition, data rendering and postprocessing. This software also includes Amnioscopic Rendering, a unique method of surface rendering to show almost photorealistic and detailed views of the foetus, Siemens continues. The additional imaging with Foetal Heart STIC (Spatio-Temporal Image Correlation) acquires data over the course of several cardiac cycles and creates a 3-D volume of the foetal heart, which a physician can use to view the heart in several layers.
Another feature is syngo eSie Calcs software, intended for boundary detection and segments it scans areas of interest, automatically calculating all parameters of interest to the physician, Siemens continues. 'The simple definition of a delimited area allows the tracing of lesions and calculating either their volumes in 3-D or surfaces in 2-D.'
(See EH@ESC supplement, centre 12 pages of this issue).
More on the subject:
More on companies: