Innovator
Entrepreneur with healthcare vision: Dr. Yosef Segman
Founder, CEO and Chief Scientist of CNOGA Medical Ltd., Dr. Segman will be attending the MEDICA 2015 and available at the company's booth to explain the company's revolutionary healthcare ecosystem vision and business strategy.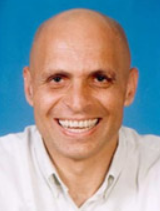 The company will be showing its new line of non-invasive, pain-free patient vital signs monitoring TensorTip™ devices, and presenting its new Singular™ platform, a secure cloud-based ecosystem infrastructure platform as well as its new mobile application for sending results to physicians, friends and caretakers.
Segman has led the company's product development through to commercialization in Europe, Asia and South America. He previously founded Oplus Technologies Ltd., acquired by Intel in 2005, where he served as the CEO and Chief Scientist. He holds a PhD in mathematics from the Technion, the Israeli Institute of Technology, and was a guest researcher at Harvard University and Siegen University in Germany. He is an author of numerous scientific articles and holds a range of patents.
Visitors to the booth can also test the company's range of non-invasive products. They can also measure their own blood parameters onsite and send the results to mobile devices.
The privately-held company, founded in 2004 and headquartered in Israel, is supported by leading endocrinologists and technology professionals. Its technology was developed by CNOGA scientists in strategic collaboration with Texas Instruments and other technology companies.
Find CNOGA Medical at booth H09 D75.