Entering the Champion's League
Accuvix A30 produces impressive results in the prenatal diagnostics arena and Samsung could become a serious contender in the ultrasound champions' league.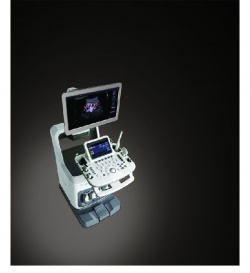 Dr Rainer Bald, head of prenatal medicine at Leverkusen Hospital, is one of the few chosen for the chance to test the new system. His verdict is unambiguous: 'I cannot imagine working without the A30 anymore.'
Of all the enhancements developed for the current model, Dr Bald is particularly impressed by the B-mode image, used for about 95% of diagnoses: 'The resolution of both the conventional 2-D image and 3-D image has remarkably increased, which surely is the result of improved noise suppression. It provides excellent detail.'
Another convincing development Dr Bald points to is the sensitivity of the colour Doppler. With new functions the system achieves very good spatial resolution that allows detailed assessment of minute vessels. 'Unlike systems by other manufacturers, the A30 offers Alpha Blending, which means the colours can be set to transparent; the structures in the background remain visible and can be identified in terms of anatomy.'
This function offers major advantages in cardiac diagnostics because the valve in the background is visible while the inflow into the heart is being assessed. The exam method is highly sensitive and allows evaluation of detailed structures. 'However,' he adds, 'the bi-directional power Doppler does not replace the conventional B-mode image because the latter is the only one capable of showing turbulences that indicate, for example, a narrow valve.' As far as ergonomics and workflow are concerned Dr Bald is also full of praise. Examination steps that are frequently performed, for example, can be preprogrammed and automated: 'In prenatal diagnostics certain parameters are routinely measured in a certain sequence. I programmed these sequences in the Accuvix A30 and now when I press the Next button the system automatically moves, let's say from measuring the biparietal diameter to the ellipsis for measuring the head circumference, and so on.'
However, he says that the Accuvix A30's ultimate highlight is the vaginal transducer; it far outsmarts the competition. Particularly notable is cervix elastography that enables the gynaecologist to assess not only the length of the cervix but also tissue stiffness, a feature set to improve the predictability of premature births over coming years. Beyond the technological innovations, Dr Bald is impressed by Samsung's corporate philosophy of 'listening' – in his experience an art not every manufacturer easily masters. 'When developing the A30, Samsung went out of its way to incorporate user input. Not every company is prepared to do that – despite the fact that real enhancements can only be realised jointly by the manufacturer and the users, as the A30 so nicely proves.'
Manufacturer's notes
The Accuvix A30 offers world's first 21.5-inch LED monitor enriched 3-D performance, increased detection rates, advanced automation, customisable interface and forward-looking ergonomic design. These are the most striking features, Samsung points out:
Hybrid Beamforming Engine - With enhanced H/W and newly added S/W engines, users can process data more accurately through optimised processing. This Hybrid Beamforming Engine enables a more in-depth, more detailed scanning with a higher energy output.
The DMR plus - This is a completely new engine that integrates Samsung software and enhances image quality, DMR plus has a noise reduction processor that increases edge enhancement and minimise noises.
ElastoScan - Helping to identify early detection of malignant tumours and various other diseases, ElastoScan provides clinical information that conventional studies typically cannot detect.
Cervix ElastoScan - Highly sensitive, Cervix ElastoScan easily reveals changes in the uterine cervix often missed by palpation, enabling more accurate assessment.
ADVR - Integrated real-time DVD recording, ADVR permits simultaneous scanning and recording, creating an environment that allows users to choose desired recording areas.
Colour Opt Flow - The technology supports quick colour image representations of blood flow. Upgraded capabilities include changing slow, moderate or fast colour speeds. The pre-set ranges allow for faster evaluation of optimised blood flow images, depending on the application.
New 3-D imaging tools have resulted in more realistic images, and more accurate scans and diagnoses.
• Face Auto Detection: The tool removes unwanted volume data that can obscure foetal face details.
• Smart Filter Volume Imaging: Touch-activated, it provides sophisticated tools to optimise 3-D imaging and eliminate noise.
• Volume Shade Imaging: This displays 3-D images of skin tones and shading and improves visualisation.
• SmoothCut: User-controlled, it erases objects hiding desired 3-D images, reducing unnecessary exams.
More on the subject:
More on companies: