Digital
Convincing overall package
The joint practice of Drs. Ulrike and Dieter von der Burg in Münster, Germany, decided on the GU60 digital X-ray system by Samsung Health Medical Equipment (HME) and is very pleased with the image quality and workflow. The strong Samsung support and comprehensive expanded training program which allows the exploitation of the full potential was also a factor in choosing Samsung HME.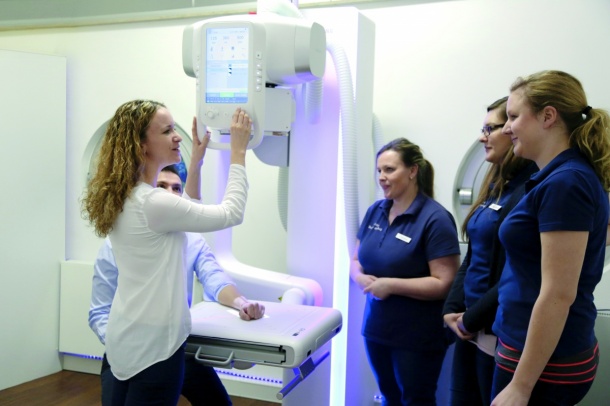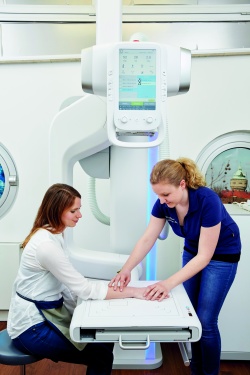 The X-ray room at the join practice of Drs. Ulrike and Dieter von der Burg in Münster is less than 11 square meters. But despite the limited space, the practice needs a premium digital X-ray system. "And that's exactly what our GU60 can offer," explains Alexander Türk, Product Manager Digital Radiography at Samsung HME. "This compact yet powerful device can even be installed in limited spaces and still offers the user the full range of options, whether a patient is standing, sitting or lying."
Enhanced Imaging and Faster Workflows
Dr. Ulrike von der Burg, Orthopedic Consultant: "The GU60 has been absolutely outstanding. Compared to our previous device, patient radiation exposure is much lower and image quality much better. These high-resolution images allow me to make a more accurate diagnosis." Patients can be given comprehensive advice faster because diseases and disorders are easier to identify. Ulrike von der Burg adds: "Since the diagnosis is clearer, patients often do not need a second imaging procedure, such as an MRI or CT." "In diagnostic terms, the GU60 has opened up a very different world," added Orthopedic and Rheumatology Consultant Dr. Dieter von der Burg. "Thanks to a fully digital and portable solution with a direct detector we have entirely new possibilities." In his area of expertise the advantages of the GU60 are evident in the early diagnosis of rheumatic diseases: "I can now identify changes on the borders between bones and soft tissue much sooner – and that's important in my work. The post image processing technology makes changes in the soft tissue mantle clearly visible, providing me with information crucial for advising patients and deciding on treatments."
"Especially when we have a lot to do and many of our patients need diagnostic imaging," Ulrike von der Burg commented, "we notice that workflows have become faster and better organized." As a result waiting times for patients can be kept to a minimum.
Service and Training Program – One Factor in the Purchase Decision
Dieter von der Burg also highlights one other factor: "When you make business investments, you often sense the supplier's interest rapidly fading once a sale is secured. But it was very different with Samsung – and that was a major factor in our decision." The joint practice initially planned to approach another company to supply the technical equipment – but due to the lack of any systematic training program, the sale fell through. Dieter von der Burg adds: "About a year after the decision to expand our equipment, we have reconsidered our options and decided to buy the Samsung digital X-ray system."
All questions were answered by the Samsung partner who stayed on site for three days and made sure the entire team felt comfortable with the equipment. The training program also included another session three months later. "The aim of this expanded training program is to ensure that the entire clinic or practice team has the same level of expertise," says Alexander Türk. The second part of the program covers hands-on training. A member of the Samsung support staff visits the users at the workplace and offers advice on how to use the settings most effectively.
"In the final analysis, when you buy this kind of equipment, you strike up a long-term relationship with your supplier – and that includes a need for maintenance contracts as well as a good training program. […] Samsung has given us all the assistance we could have wished for – cooperating with us in the interests of our patients' health. And that is the most important thing." Dieter von der Burg says
More on the subject:
More on companies: