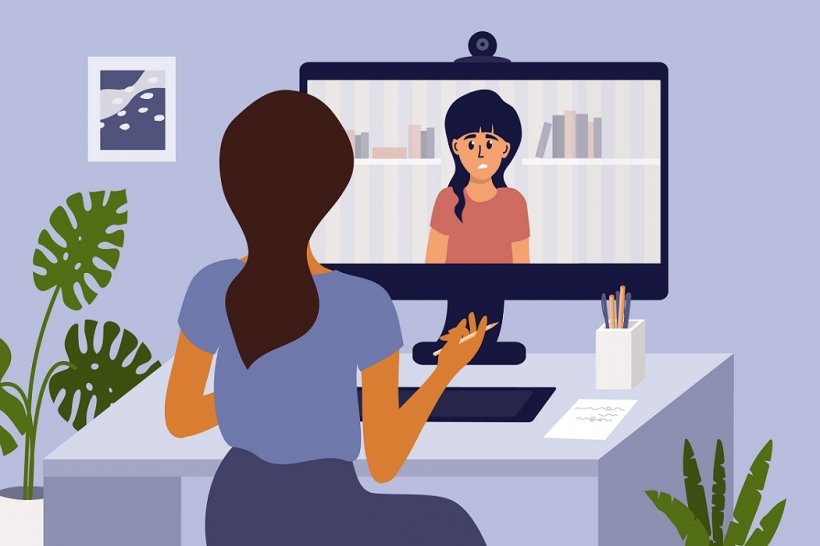 Source: Shutterstock/Olga Strelnikova
Article • Chatbots & co
E-mental health: A solution for a rising challenge
E-mental health services could provide a response to these challenges and offer effective ways for prevention, diagnosis, treatment, and aftercare.
Report: Sascha Keutel
More than half of the populations of middle- and high-income countries are expected to suffer from at least one mental ailment in their life.1 In view of the frequency and the waiting period for a therapy place, there is an apparent need for new solutions. E-mental health applications could fill the increasing demand.
According to the World Health Organization (WHO), "Mental health is a state of well-being in which an individual realizes his or her own abilities, can cope with the normal stresses of life, can work productively, and is able to make a contribution to his or her community." The WHO also stresses that mental health is "more than just the absence of mental disorders or disabilities."2
What is e-mental health?
According to Shalini Lal, Associate Professor at the University of Montreal, e-mental health involves leveraging the internet and related technologies such as smartphone apps, websites, and social media to deliver mental health services.3
E-mental health applications include:
Mobile apps and chatbots
Specialized voice-over-internet-protocol (VOIP) or video-based e-counseling therapy platforms (also known as telepsychiatry)
Information portals, blogs, and podcasts
Online support groups, forums, and social networks
Online assessment or diagnostic tools
Therapeutic gaming programs, robotic simulations, and extended reality systems
Prevention
E-mental health with a focus on prevention exists in various forms, for example as websites with psycho-educational content, self-tests, treatment programs with and without the support of specialists.
Diagnosis
Psychological testing procedures and structured interviews are common ways to diagnose the type and severity of a mental illness. Clinicians can use digitized versions of general psychological symptom checklists or specialized test procedures and send patients an invitation to specialized online assessment platforms.
Treatment
The applications of e-mental health include for example digital therapy programs for sleep or depression. Such treatment programs often exist as psycho-educational texts and videos, combined with exercises, advice, and tests. Such digital programs are offered with or without the assistance of a professional.
In recent years, there has been a clear preference for a combination of telepsychiatry and e-mental health. This form of treatment is called blended care and is delivered through a combination of face-to-face conversations and online interventions.
Aftercare
In many situations, patients have access to their user account even after finishing their therapy, so that they can continue to use the psycho-education tools and exercises that were used during treatment. Various programs include a module that is focuses on relapse prevention and follow-up care.
Benefits
E-mental health solutions offer several benefits, such as:
Anonymity: Clients can seek treatment options without involving other people.
Accessibility and convenience:

Treatment can take place anytime and anywhere; it provides 24-hour service.
Solutions are accessible to those with mobility issues or who live in remote areas.
Digital solutions are rapidly available in emergency situations, e.g., following a natural disaster or terror attack.
Patients can review the material as often as required.

Cost-and time-effectiveness:

Many solutions are free (though costs for mobile data or internet download limits should be considered).
Compared to conventional therapy, many apps, peer support groups, and online solutions are cheaper.
Patients can access course material or live therapy without transport costs.
Digital courses or video conferencing soft- and hardware involve fewer costs than maintaining physical offices, e.g., rent, utilities.

Long-term sustainability:

Mobile applications and teletherapy services can encourage continued progress after in-patient therapy ends.
They may also be an effective way to maintain progress between sessions.
Concerns
While mental health technology offers great opportunities, there are also several concerns. There is a lack of scientific evidence for the effectiveness of e-mental health applications and solutions compared with traditional methods. And the question remains whether mobile applications do work for all people and for all mental health conditions.
Furthermore, health data are sensitive personal information, therefore privacy and security for applications and software must be guaranteed. Moreover, there are no industry-wide standards to help consumers know if an application is proven effective. And who regulates e-mental health technology and the data it generates?
Conclusion
More and more people are using medical services because of mental illness. This poses major challenges for the healthcare system. E-mental health applications and solutions provide an alternative to conventional treatments. They offer low-threshold, location and time-independent treatment options and could therefore lessen the burden on the healthcare system. However, to leverage these digital technologies, they need to be based on scientifically recognized psychotherapeutic techniques and they must meet safety standards.
1 Jürgen Rehm, Sebastian Trautmann, and Hans-Ulrich Wittchen, "The economic costs of mental disorders," EMBO Reports, September 2016, Volume 17, Issue 9, pp. 1245–49, https://www.ncbi.nlm.nih.gov/pmc/articles/PMC5007565/
2 https://www.who.int/news-room/fact-sheets/detail/mental-health-strengthening-our-response
3 Lal, S. (2019). E-mental health: promising advancements in policy, research, and practice. Healthcare Management Fórum, 32(2), 56. https://pubmed.ncbi.nlm.nih.gov/30739487/