Efficiency Gains with Siemens syngo.via
Since Siemens Healthcare launched syngo.via, its imaging software for multimodality reading of clinical cases, clinicians worldwide are reporting significant workflow efficiency gains. More than 100 installations of syngo.via have been delivered worldwide, and healthcare organizations are already benefiting from the advantages of syngo.via embedded in their clinical routine with advanced visualization tools and automated processes leading to faster reading times and lowered costs. Siemens showcased a series of customer testimonials throughout its RSNA booth that will enable visitors to learn more about the solution first hand.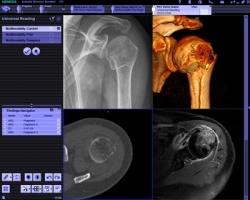 syngo.via helps increase reading efficiency across multiple specialties, including oncology, cardiology, and neurology – enabling clinicians to effortlessly access state-of-the-art advanced visualization tools across the clinical spectrum. Clinicians employing syngo.via are already attesting to enhanced workflow efficiency.
"syngo.via's speed and advanced applications are some of the things that impress me the most about this solution," explains Dr. Barton Milestone, Vice Chair, Diagnostic Imaging and Director of MRI, Fox Chase Cancer Center, PA.
"In the past, a lot of time was spent for routine cardiac imaging – anywhere from 30 to 50 minutes for a patient with benign results," said Peter Sögner, MD, Department of Radiology, Innsbruck Medical University, Austria. "Today with syngo.via, if the vessels are normal, in case of coronaries without stenoses, you can perform the same task in one minute."
"We have a high workload in our institution, so time is of the essence," states Prof. Dr. Gudrun Feuchtner, Department of Radiology II, Innsbruck Medical University, Austria. "With syngo.via, I can complete readings quickly and efficiently – in just minutes. Not only does this make my work easier, it allows for faster patient results."
Siemens Healthcare is conducting an efficiency survey about the most common advanced reading and visualization workflows with syngo.via across several clinics worldwide. This approach helps healthcare providers identify potential areas for efficiency gains and workflow optimization.
syngo.via background information
syngo.via integrates imaging devices, such as MRI, CT, and PET-CT scanners with Radiology Information Systems (RIS) and Picture Archiving and Communications Systems (PACS) of leading vendors, including Siemens' newest PACS solution, syngo.plaza. When syngo.via and syngo.plaza are combined, users are presented with direct, no-click access between the two technologies and a unified user-interface for faster reading. One of syngo.via's distinct advantages is its Automated Case Preparation functionality, which automatically loads images into the appropriate application and sorts them into the corresponding disease-specific layout, thereby eliminating the need to manually choose the application, load data, and select corresponding layouts. Also unique to syngo.via is the Case Navigator functionality, which supports structured workflow by categorizing various workflow steps and aligning the proper images to each corresponding step. Furthermore, during the reading process, findings and measurements can be automatically tracked and listed with the one-of-a-kind Findings Navigator, which allows users to effectively navigate between various findings with just one click.

More on the subject:
More on companies: