Easing life for patients with chronic respiratory problems
Delphi Medical Systems
Detroit based Delphi Medical Systems is a world-class provider of technology, products, and product development and manufacturing for many major sectors of the medical industry. Amongst their latest technologies on show at Medica (Hall 11) is the Delphi Portable O2, a light weight oxygen supply for patients with respiratory diseases or other illnesses requiring supplemental oxygen such as chronic obstructive pulmonary disease (COPD).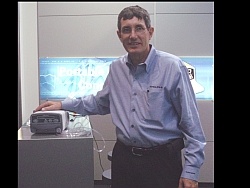 The Delphi Portable O2 delivers concentrated oxygen levels of up to 93% and functions by separating nitrogen and oxygen from ambient air. Maximum output is 975 ml/minute with a user-adjustable flow rate in 0.5 increments between 1 to 5. Because the device weighs only 3.86 Kg it represents a real advantage to those patients whose lives are normally restricted by the limitations imposed by using an oxygen cylinder. Now they can carry their oxygen supply, or pull it behind them on wheels, for maximum mobility and convenience. The oxygen supply is powered via an AC/DC outlet allowing oxygen to be accessed easily in most locations. Alternatively the autonomous battery supply, lasting up to 4 hours, provides extra convenience enabling patients to travel easily. The user interface is intuitive so that patients can quickly and easily learn how to operate the system reducing maintenance and service call-out costs. The system is rugged and durable and specifically designed to go where other POCs can not.
Just launched in the USA the Delphi Portable O2 will be available in Europe from Q1 2008.