Article • Streaming
Doctors and students worldwide participate in robotic surgery
Rectal cancer surgery - using a Da Vinci robot and conducted by Tas Qureshi, Consultant Surgeon and robotic lead at Poole Hospital NHS Foundation Trust - was beamed live from his operating theatre by satellite to an international conference of specialist doctors, student doctors and to a worldwide audience via multimedia platforms with live audio and twitter feedback.
Report: Mark Nicholls
The stream – part of an educational programme by Poole Hospital NHS Trust at its International Symposium of Minimal Invasive Surgery for Rectal Cancer – offered a 360-degree perspective of the operating theatre, as well as a 'robots-eye-view' of the inside of the 60-year-old patient. 'The live stream, the first ever for a robotic case, enabled surgeons to have the opportunity to listen to lectures from the international symposium from recognised authorities in the field,' Qureshi said. 'They also witnessed live surgery performed on a patient with rectal cancer, with the opportunity to interact with us in real time.
'In addition, through an affiliation with the University of Portsmouth, the case was recorded using Virtual Reality technology, allowing anyone with a smart phone to have an "immersive experience" of the theatre environment, a world first for a robotic case, we believe. Therefore, this event provided a huge learning opportunity for people with no access to the robot both in terms of the latest evidence from lectures and live surgery from experts.'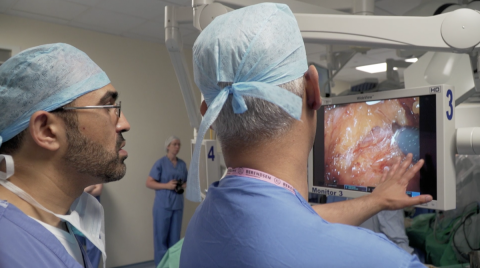 Surgeons believe the mode of transmission of the live stream using satellite rather than physical ISDN lines has implications, not just for real-time teaching, but also for the potential of robotic tele-surgery in the future. Potentially, they say, a specialist can operate remotely from an identical console on a patient from anywhere in the world or even assist a colleague on a similar console in the operating theatre remotely. The surgeons suggest the current constraint for robotic tele-surgery is a physical reliance on the Internet with its potential to slow down transmission, especially during times where an unforeseen peak in social media may suddenly devour redundant bandwidth. Point-to-point satellite overcomes this potential hurdle.
'It will be exciting to see this technology develop further in the coming years, providing a fantastic teaching and training platform, and perhaps allowing patients to be operated on remotely, all over the world, by the best surgeons,' Qureshi enthused. He was assisted in the operation by Professor Amjad Parvaiz, a specialist colorectal surgeon Professor of Surgery at Poole, Head of Minimal Access and Robotic Colorectal Surgery at the Champalimaud Foundation in Lisbon, Portugal and a founding director of the European Academy of Robotic Colorectal Surgery (EARCS), for the procedure.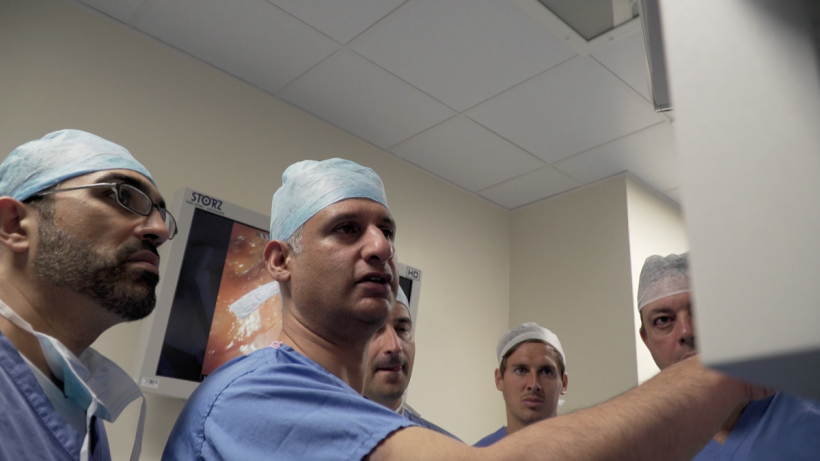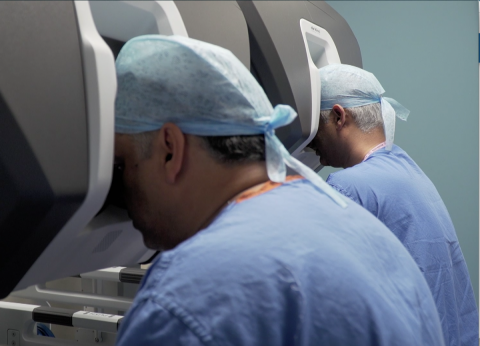 'Historically, the robot has been used almost exclusively for prostate cancer surgery by urologists. Currently, there are very few general surgeons like us who perform robotic resections on rectal cancer,' Qureshi continued. 'In fact, however, general surgeons have been sceptical about the prediction from experts in the field that the number of general surgeons wishing to have access to a robot will increase significantly as they develop an understanding of what is possible and as new evidence starts to appear in medical literature.'
The symposium drew many of the world's leading authorities in this field to Poole Hospital, which has recently named as the European epicentre for robotic colorectal surgery. Qureshi: 'This means Da Vinci recognise the quality in Poole and have appointed us as their preferred "epicentre" or Centre of Excellence in Europe for robotic colorectal surgery, meaning any surgeon in the UK and Europe approaching Da Vinci wanting exposure to robotic surgery will be directed to our unit for "observerships". 'Those surgeons who already have access to a robotic system, but are finding it difficult to start operating, or are unable to progress, will also be directed to Poole to attend Master classes that we run.'
The Da Vinci robot used for the surgery provides high definition 3-D images with sophisticated instruments, allowing for greater precision, which in turn deliver significant benefits for patients in the short and long term, such as reduced trauma to the body, reduced post-operative pain, shorter hospital stay and faster recovery. It has been designed to improve upon conventional laparoscopy, in which the surgeon operates while standing, using hand-held, long-shafted instruments, which have no mechanical wrists. In contrast, the Da Vinci System's design allows the surgeon to operate from a seated position at the console, with eyes and hands positioned in line with the instruments and using controls at the console to move the instruments and camera. Surgeons can also sit at dual consoles and remotely work collaboratively to assist one another.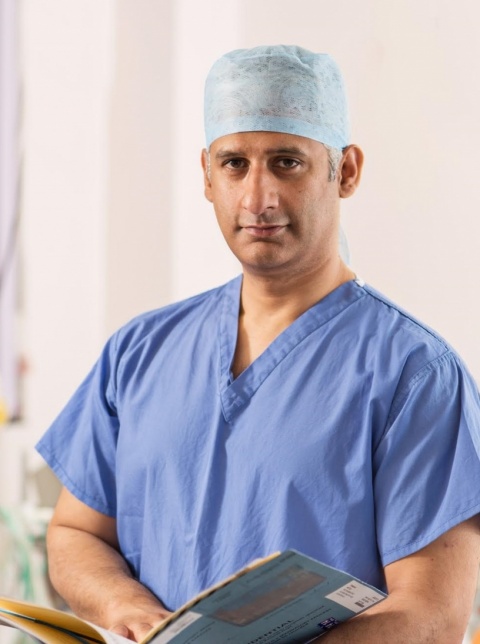 Commenting on the enhanced performance of the robot, Qureshi said: 'Traditional laparoscopic surgery has instruments with very primitive movements. The robot provides me with 3-D high definition views and wristed instruments able to perform seven degrees of movement - the human hand has only six. 'This means I can very precisely access difficult areas in the body and take cancers out with better precision and with much more confidence that the whole cancer can be taken out,' Tas Qureshi confirmed, adding: 'This hopefully will mean patients require less radiotherapy and chemotherapy.'

Profile:
Tas Qureshi is a Consultant Surgeon at Poole Hospital NHS Trust with a recognised expertise for embracing the latest techniques in laparoscopic surgery. He specialises in minimally invasive surgery (MIS) for bowel cancer, inflammatory bowel disease, hernias and gallstones, amongst other conditions. He is the first General Surgeon in Dorset and one of the first in the South of England trained in Robotic Surgery for these procedures.