Diagnostic imaging service extended
Medical Equipment Solutions and Applications (MESA) and Euromedic International have agreed to extend their current diagnostic imaging service and maintenance partnership covering Euromedic's Tier 1 (MRI, CT, PET-CT, Gamma Camera and Angio) and Tier 2 (mammography, ultrasound and other general X-ray) systems.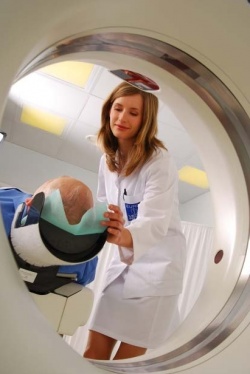 MESA has been Euromedic International's multivendor provider for pan-European diagnostic imaging maintenance service since 2009. Both companies have announced the prolongation of that contract as well as the extension of the contract to additional geographies, ensuring continued Euromedic high-quality multivendor service for their large base of medical imaging systems. It also further solidifies MESA'a market leadership as the largest provider in Europe.
MESA became Europe's first independent, pan-European multivendor service provider for diagnostic imaging systems in late 2009, with the Euromedic contract covering an initial 7 countries of Euromedic's installed base. The following three years have seen tremendous expansion and growth for MESA's business model as they rolled out Europe's first scalable, high-quality and efficient service delivery platform covering Tier 1 and Tier 2 imaging systems from vendors such as GE, Philips, Siemens and Toshiba. Benefitting from a heritage spanning over 25 years of experience in the US market, where competitive, third-party diagnostic imaging and clinical healthcare solutions are more mature, MESA is accelerating the adoption of these services across Europe given the growing market demand for more economical, transparent and higher quality maintenance service solutions with a single supplier that can cover all major OEM brands and modalities.
According to Zoltán Szepesi, COO of Euromedic's Diagnostic Division, "Euromedic centres perform more than three million radiological high-end investigations annually, and our patients always come first."
With a focus on supporting the highest quality of patient care, MESA backs up its service assurances with its ISO 13485 certification, a quality accreditation for the medical device industry that covers MESA's core asset management solutions in service, refurbished imaging equipment systems, and capital spare parts. MESA is also a certified ISO 9001 company, which covers its internal management systems for continuous process improvement and quality assurance. MESA is the only non-OEM, independent company in Switzerland certified by the Swiss regulatory FOPH (Federal Office of Public Health) to service X-ray–emitting imaging systems such as CTs, PET-CTs, Mammography, gamma cameras and various general X-ray systems.
Szepesi adds, "We look for innovative ways to improve the services we provide to our patients. It's what makes us so competitive. MESA's multivendor expertise and proven history gives us independent insight for a number of different OEM systems and modalities that we manage in many countries across Europe."
Indeed, since 2005, Euromedic operations have steadily grown throughout Europe as they now operate in 15 countries with over 137 medical centres, making them one of only two companies with significant European cross-border diagnostic imaging activities. For a large-scale equipment owner like Euromedic, having a single point of contact for the majority of all equipment service has been an immense help in simplifying processes and understanding the state of the company's operating efficiency and equipment performance across all of its imaging centres.
"We look to help hospitals and diagnostic imaging providers achieve higher levels of service support and system uptime with our centralised asset management solutions. Service is all we do every day so we look to drive innovation through investment in our people and the application of technology to enable more efficient service solutions, such as real-time reporting, remote diagnostics, and cloud-based mobile device applications," says Rob Piconi, MESA Group Holdings Executive Chairman. "Given the economic challenges facing Europe's healthcare systems in the public and private sector, our solutions offer substantial cost savings in optimising capital equipment expenditures while significantly reducing the monthly maintenance operating expenses. For our clients, those savings feed opportunities for growth and a much higher level of asset utilisation and efficiency while simultaneously improving system uptime through our centralised asset management model."
MESA's growth this year has focused on expansion of its core installed customer base in 15 countries as well as larger market launches in the UK and Turkey that began in late 2012 and early 2013. MESA is supporting this expansion through a combination of organic and inorganic growth investments with a primary focus on service support and supply chain infrastructure as well as technical field service acceleration.
Medical Equipment Solutions and Applications (MESA) is the first pan-European independent service provider for clinical and diagnostic imaging maintenance service, capital spare parts, and refurbished equipment solutions for all MRI, CT, PET-CT, Angio/Cardiac and other general X-Ray systems from vendors such as GE, Philips, Siemens, and Toshiba.
Headquartered in Lugano, Switzerland, MESA brings to Europe more than 40 years of experience developing the third-party diagnostic imaging service and parts market in the United States. Committed to customer service and quality, MESA is accredited with both ISO 13485 and ISO 9001 certifications. Visit www.mesa-medical.com or contact MESA at info@mesa-medical.com.
Euromedic International is fast becoming the largest, most successful pan-European medical service provider specializing in diagnostics investigations, clinical laboratories and cancer treatment services. Operating a highly respected portfolio of medical centers across the continent, Euromedic's services are at the cutting edge of patient care – a lifeline to patients in need of its services.
With nearly two decades of dedication to medical excellence, Euromedic is redefining the relationship of privately financed healthcare provision to the public sector. The company is effectively delivering life-saving medical services, at the highest European standard, within existing publicly managed healthcare structures. Year in and year out, Euromedic professionals touch the lives of millions, meeting the converging needs of patients, employees, public health authorities and corporate investors alike.