Market
Andalusia Health Service Selects Accenture and Carestream
Andalusia Health Service has selected Accenture and Carestream Health to deploy a picture archiving and communications system (PACS) that will allow clinicians to manage, store and share diagnostic imaging data across more than 1,600 healthcare facilities in Spain. This initiative by the Andalusia Health Service is expected to go live in late 2015, creating one of the largest medical imaging systems in Europe.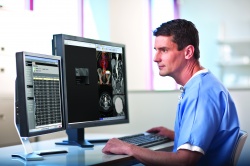 PACS is a community-wide system that is used to electronically capture, view, store and distribute medical imaging (i.e. x-rays, MRIs, CT and ultrasound) digitally rather than using the old system of printing images onto film. The joint Carestream-Accenture initiative will deploy the PACS solution to help radiologists and clinicians securely share and manage medical imaging studies, radiology reports and patient imaging. Equipment and systems will be installed in two data centers capable of storing 1.4 petabytes each, equivalent to 11,000 personal computers of 250 gigabytes.

"In Andalusia, alone, there are more than 8 million radiological tests conducted annually, which illustrates how important it is to expand digitized medical imaging in Spain," said Baltasar Lobato, managing director of Accenture's health business in Spain. "Andalusia Health Service's digitization initiative will be one of the largest efforts in digitizing medical imaging in Spain. "The growing demand for imaging means that radiologists are confronted with increasing workloads and the challenge of processing larger amounts of data. We expect this effort will help clinicians concentrate on providing the best care to patients."

"The fact that all hospitals use the same image digitalization system involves significant benefits for both professionals and patients, as well as a saving for the public health system, since maintenance costs are reduced by 35 percent," said Manuel Frowein, general manager of the Carestream-Accenture initiative.

Andalusia will work with Carestream and Accenture to establish interoperability between image scanning systems and import data into the new system so physicians have access to full radiological records. The radiological records of patients will be available across all types of examinations, from X-rays to MRIs, CT scans and those made since the introduction of the new system.

"For doctors, the system also involves a very significant advantage because it enables us to access examinations faster, do this from any place, complement the results with the patient's record and for doctors to check with each other beyond our own hospital or primary assistance center," said Santos López, director for healthcare IT, Carestream.

"The investment in the project, which amounts to more than $8.4 million (€ 6.7 million), is based on the previous agreement with Andalusian Health Service and the public corporation, Red.es. This initiative will be funded by the European Commission, through the Regional European Development Fund (FEDER), as well as the Junta de Andalucia," said Pablo Sánchez Cassinello, managing director for Accenture Health.

Accenture has worked with Andalusian Health Service since 1998 and Carestream has conducted implementations with four health systems in Andalusia since 2005.
Press Release: Carestream Health
More on the subject:
More on companies: