Diabetic biomarker test successfully verified
EKF Diagnostics announces that its newly introduced Glycated Serum Protein (GSP) LiquiColor® diabetic biomarker test has been verified for use on the Siemens Vista chemistry analyzer. In a scientific poster published by scientists at the Memorial Healthcare System, Hollywood, USA [1], it was demonstrated that EKF's GSP assay enhances the versatility of the Vista system for the specialized glycemic monitoring of diabetics with hemoglobinopathies, or conditions that affect red blood cell (RBC) lifespan.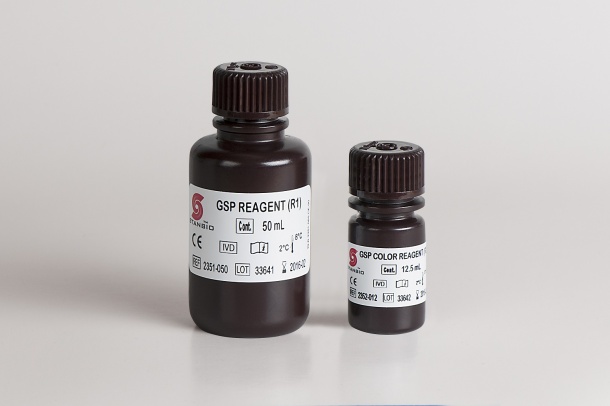 Daily blood glucose and HbA1c are used as short and long term (3-4 month) measures of glycemic control respectively. However, HbA1c values may be adversely affected by patients with hemoglobin variants or conditions that affect RBC lifespan such as anemia and dialysis to name a few, while GSP as a 2-3 week indicator of blood glucose, is unaffected. Traditional NBT assays for fructosamine (or GSP), used as an alternative test for diabetes patients with hemoglobinopathies and pregnant women, suffer from a variety of interferences. Due to these analytical issues, the Memorial Healthcare System scientists required a reliable alternative that could be adapted to their existing analyzer. Therefore, the EKF Diagnostics GSP assay was evaluated and validated using an open channel user defined method.
The scientific poster authors concluded that EKF's GSP assay provides laboratories with a simple, sensitive and fast alternative glycemic monitoring test without the endogenous substance interference that are typically observed in NBT based colorimetric assays.
"We are pleased with the recognition by the Memorial Health System of the value of our GSP diabetic biomarker test which is based on a double enzymatic degradation method. This provides superior specificity, accuracy and reliability compared to the older non-enzymatic fructosamine NBT method," said Al Blanco, Business Unit Director – Central Lab at EKF Diagnostics.
He added, "As a 2-3 week indicator of average blood glucose which is unaffected by RBC half-life, GSP closes the information gap between daily blood glucose and HbA1c testing. This means that GSP serves as an accurate intermediate marker of glycemia in instances where HbA1c may be of limited value, such as pregnancy, reduced RBC lifespan and hemodialysis."
The Memorial Health System scientific poster presented at the American Association for Clinical Chemistry (AACC) Annual Scientific Meeting 2016 is available to view at: www.ekfdiagnostics.com/glycated-serum-protein.html.
For more information on EKF Diagnostics, please see www.ekfdiagnostics.com.

Reference
1. Chittiprol S., Buzaki C., Tinckell H., Kiechle F.L. Validation of a new Glycated Serum Protein assay on the Siemens Vista analyzer. American Association for Clinical Chemistry (AACC) Annual Scientific Meeting - Scientific Poster Presentation (2016).
Source: EKF Diagnostics Holdings
More on the subject:
More on companies: