Continuity, consistency and more clinical value
Raising speed and capacity transforms ultrasound machine into a platinum series
'The new Aplio improves the existing functionalities of the high-end systems, dramatically enhances image quality, increases diagnostic confidence and further streamlines workflow,' the manufacturer reports.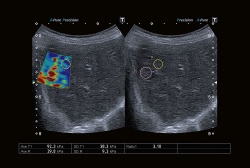 'With the new hardware comes new capabilities as Toshiba introduces an advanced Doppler algorithm called Superb Microvascular Imaging (SMI) and expands its suite for elastography with the addition of ShearWave Elastography (SWE).' Joerg Schlegel, Senior Manager Product Marketing at Toshiba Medical Systems points out: 'The Aplio Platinum Series is an evolution within the Aplio family, consistent with the revolutionary architecture.'
Christoph Simm, Toshiba's Senior Manager of the European Ultra­sound Group adds that the expanded power of the Aplio takes it into the growing fields of ultrasound applications, for example comprehensive liver diagnostics with the unique SWE Smart Map approach; advanced prostate diagnostics with the Smart Fusion for MR-US fusion guided biopsy solutions, gynaecological diagnostics with the firm's FlyThru technology for ultrasound hysteroscopy, and musculoskeletal diagnostics with Toshiba's SMI for assessing inflammation. Toshiba has also introduced four new probes, including the world's first wideband single crystal transducer created with a new composition of piezoelectric crystals and tissue matching technology to provide an increased bandwidth, a better signal-to-noise ratio and an improved axial resolution and penetration.
The first experiences with Aplio Platinum won praise from a cohort of leading clinicians who applied the new capabilities to advanced investigations as well as clinical routine, the company reports. 'Six leading physicians presented their findings on the impact of enhanced features of the new platform through a series of case studies for specific clinical applications, as well as during a roundtable discussion where they shared experiences.'
Prof. Thomas Fischer MD, who has worked with the system for almost a year at the Radiological Institute at Charité Hospital, in Berlin, observed: 'The dramatic increase in image quality, Doppler sensitivity and Fly Thru rendering accuracy and speed leads to the question of whether there are clinical advantages with all the new tools of this very advanced system.'
Not just a toy
According to Adrian Lim MD, Consultant Radiologist at Imperial College and Chief of Ultrasound at Charing Cross Hospital, both in London: 'Every time a new technique or technology comes along one needs to ask if it is something useful or just a toy. The innovative features of the new Aplio bring significant changes. Greyscale imaging particularly stands out with very nice homogenous images and crisp margins.' An author on 142 published papers, Leopoldo Peréz de Isla MD, explores advanced echocardiographic measures to establish reference values at the Cardiovascular Institute of the Hospital Clínico San Carlos in Madrid, Spain. 'I need a system with a very high temporal resolution and I need a fast system,' he pointed out. 'I can't use a system where I have to push many buttons and wait a long time. This is the first system that works very quickly to analyse a complete left ventricle using Wall Motion Tracking in a very accurate way.'
Overall speed brings clinical benefits
Accelerated overall processing has delivered a variety of clinical benefits, Toshiba points out. For example, the firm's Fly Thru technology is much faster in rendering large data volumes. 'Smart Fusion now manages multiple data sets from CT and MRI, the firm adds. 'Differential Tissue Harmonics Imaging has stepped up to a new generation while 3D Multi-Planar Reconstruction has been refined. Thanks to boosted processing, Toshiba Precision Imaging and Precision+ have entered a new dimension with 3D volume capabilities.'
Finally, Toshiba concludes: Delivering more information with accelerated processing in an intuitive, easy to understand display, Aplio Platinum builds diagnostic confidence and helps physicians avoid the need for supplementary exams. Ergonomic with a fully customisable console, this advanced system saves time and expense, enhancing departmental productivity.'

More on the subject:
More on companies: