CMEF in Xiamen: Selected Highlights from the Exhibition Floor
The CMEF autumn show turned out to attract crowds from China, East and Central Asia, Africa, Europe, the U.S., and further regions.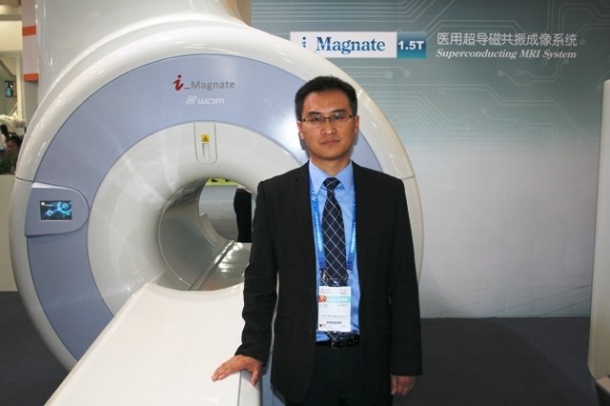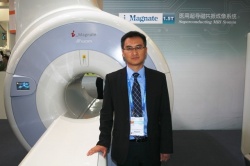 Product launches on the first day, many of them celebrated in a party atmosphere, added to the positive general mood among delegates. Among exhibitors, there was a great appreciation of the large number of attendees with decision making competence. – Here's a selection of highlights from the exhibition floor.
Shenzhen Basda Medical Apparatus: this is the first company to launch a Chinese-made 3.0 T MRI – and it did so at the CMEF show in Xiamen, underlined Michelle Zou. According to the Overseas Manager, the modality is based on Basda's own research and development, and a good price combined with high quality make the MRI appealing to many markets. An upcoming 0.2 T MRI for the imaging of joints will help hospitals to reduce investment budgets. Further highlights from the manufacturer include a 1.5 T MRI as well as a SPECT device and a gamma camera for nuclear medicine.
Biocare: This company, founded in 1996, manufactures ECGs, patient monitors, and ultrasound equipment. It was the first in China to produce ECGs, said Sofia Chen, Regional Manager Europe, and it leads the domestic market in terms of sales. Today, products are sold to more than 100 countries. Biocare recently launched its iE15 digital 15-channel ECG, designed ergonomically like a notebook with a touchscreen and producing simple as well as complex analysis results, and the company also offers 18-channel equipment. Distributors located almost all over Europe also cover the support.
Shenzhen Comen Medical Instruments: this manufacturer concentrates its activities to a great extent on patient monitors. Comen is the second largest manufacturer in China, underlined Andrew Feng, Regional Manager Europe. Its patient monitoring devices are tailored towards the needs of the ICU, of neonates, emergency transportation, as well as general wards. The company's strategy is to expand functionality to products by adding modules; devices for general wards come with fewer options. In Xiamen, Comen showed the new NC50, NC60, and NC80 products scaled in size. Customers at the show appreciated the single module plug-in slot concept. Ventilators, anaesthesia equipment, O. R. lights, patient tables and more round off the portfolio.
Emperor Medical: this company has developed its own core technology for its colour Doppler ultrasound series, said Alpha Zan, General Manager. He describes the quality of the 2D images as excellent, based on 15 years of research and expertise, and 3D as well as 4D images are enhanced by highly sensitive transducers. A further highlight is the long warranty of three years for the units and one and a half years for spares. At CMEF, Emperor launched the G60 ultrasound in addition to the G70 and G30 models; their differentiation is by number of channels. Distribution in European markets is done by partners who also provide support and maintenance.
Neusoft Medical: At CMEF, the focus of this manufacturer was on its 64-slice CT and on its digital flat-panel mammography modality which is currently going through its approval process. Subsequent to an exploding market, medtech sales in China are currently stabilizing, according to Guo Yong, Vice President and Marketing Director. The government still dishes out subsidies for investments in equipment, in particular in imaging modalities: cost-effectiveness is a prerequisite for manufacturers intent on participating in this scheme. Neusoft meets this demand through "no bells, no whistles" products such as DR, ultrasound, dual-slice CT, and in the future, even a cost-effective 16-slice scanner. Another driver in the medtech market is growth in the private hospital sector, said Guo – already, more than 40 percent of care providers are private, and they tend to perceive technology investments as significant cost cutting and market positioning tools.
Shantou Institute of Ultrasound SIUI: the "Ultracloud" is the hot topic at this booth. Performance improvements and a more user-friendly interface have helped make the company's ultrasound devices even more attractive, storing and accessing patient data in a cloud made available by the manufacturer will greatly improve workflows and help reduce unnecessary use of staff resources for keying in data, underlined Connie Chan, Manager, Medical Overseas Business. A laptop-like design for a portable device or simpler handling for equipment designed to be used by non-radiologists, e.g. in the ICU, count among additional benefits. Handling of raw image data by the machines has been optimized for even higher image quality, according to Chan. At the SIUI booth, too, a product was launched – an ultrasound device dedicated to mammography, with automatic scanning of the breast.
China Resources Wandong: highlights at this booth included a 1.5 T MRI, a digital X-ray modality for mammography, and DR systems. Demand for MRIs is going up in China, pointed out Xianhua Meng, Manager International Sales: more and more smaller hospitals succeed in finding investment money to buy high-tech machines. Loans and subsidies from regional governments support this technology innovation process which, in turn, helps hospitals position them in an increasingly competitive market. Right now, Wandong sells 90 percent of its equipment domestically; the company aims at stepping up international sales. Branch offices in a number of countries are part of the expansion strategy.
Yuwell: At the CMEF autumn show, Yuyue launched its new international branding in the English language. In future, the company will be known as Yuwell – a name which suits a manufacturer of healthcare technology very well. – In line with market trends, the company is catering increasingly to the homecare sector in addition to hospitals. A focus is on oxygen concentrators; the portfolio also includes blood pressure and glucose monitors as well as nebulizers, explained Lukas Lv, Manager, International Sales, and Emma Huang, Sales Manager. The challenge in manufacturing oxygen concentrators is in producing stable products with a long lifetime; Yuwell considers itself the world leader in this product category. In Europe, the manufacturer is still mostly active as an OEM supplier. At CMEF, the company launched its new oxygen concentrator 9F-3 with a lower noise rate, further improved handling, and a modern design. They also took a new air purifier to Xiamen.
Everybody interested in keeping up to date with product trends from and for China should mark his or her calendar now – for the spring edition of CMEF in Shenzhen, April 17 – 20 (www.cmef.com.cn).
by Michael Reiter