China's manufacturers are re-engineering their business
United Imaging is a young company: it was established in 2007 by two experienced R&D executives who came from leading Chinese medtech manufacturers.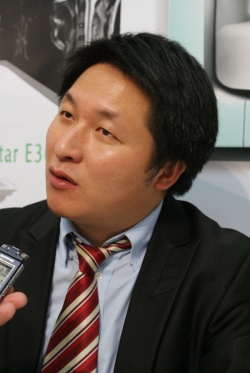 Over the past years, the company has expanded to a total of 150 staff, to an impressive portfolio of products, and significant sales. In an interview at the MEDICA booth, Director of International Business David Hsu spoke with Michael Reiter about the secrets of the company's success.
Products manufactured by United Imaging range from ultrasound, including colour Doppler, to MRIs, including permanent magnets. A PACS, sold in device bundles, rounds off the portfolio; interface languages include English, French, Spanish, and German. Numerous ultrasound products are CE marked, the MRIs are in the process of being certified.
The recipe for success
Only one other Chinese manufacturer is capable of doing the design of its products inhouse, said Hsu. All others will just buy components and assemble those parts into finished products. There is no company-owned technology inside those devices, summarized the international business director. United Imaging, on the other hand, has placed its focus on developing exactly those skills. "Therefore we believe that our company has the potential of showing significant growth over the next few years."
Both founders had a very good grounding in the medical engineering community – in China, the U.S., and basically everywhere on the globe this means they can find qualified people for product development. Investors, including international venture capitalists, like the approach. The headquarters, R&D activities, and two factories are located in Beijing, and there is an R&D-oriented subsidiary in San José, California.
United Imaging plans to set up a service base in the Netherlands or in Germany. His rich sales experience will support him in building a network of distributors across Europe, with various agreements currently in the process of being signed off. There is already significant interest from potential buyers in hospitals in various parts of Europe. "Private hospitals and clinics, primary care institutions, obstetrics, and radiology imaging centres like our good product quality at an affordable price", outlined Hsu. "As to our MRIs, solid image quality, convenient handling, and easy maintenance are core benefits; they integrate readily into given workflows." The .7 T permanent magnet comes with a vertical field, enhancing performance and convenience for large and claustrophobic patients.
Five years from now, a solid distribution network will integrate service and training, and the company will collaborate even more closely with users to optimize products in accordance with their changing requirements. "We will build systems working with users, for users. We may even set up an R&D centre in Europe", is Hsu's outlook. "Our company may be young, but our engineers are experienced" – these are the characteristics of the emerging generation of manufacturers in China.