Buzz words: digital mammography
Great! But is your hospital ready and able?
Full field digital mammography (FFDM) and computed radiography (CR) based mammography systems may bring hospitals and breast imaging services closer to gaining digital mammography, but, according to a leading systems vendor, simply buying imaging equipment does not automatically lead to a more efficient workflow.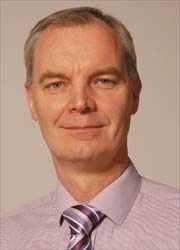 To reap the biggest harvest from a digital system, every aspect of digital image capture, from viewing, distribution, storage and management, must be assessed before any purchase is made.

Depending on the mammo-screening equipment, the average file size of one screening procedure with a high resolution CR system could be as high as 200 megabytes. Therefore, the manager of a breast screening centre that runs only 20 screenings a day needs to plan for the management of up to 4,000 megabytes (4 gigabytes) of new images daily. 'It may be possible to use lossless compression to reduce these file sizes to half or a third of their original size, but the file sizes still remain very large,' advises Christopher Varian, Director of Worldwide Business Development Mammography Solutions, at Carestream Health Inc. 'A digital review of prior screening examinations doubles the volume of data that will need to be handled on a daily basis.'
There are, he says, some key factors hospitals should consider before they adopt a new digital system:

Patient and image data management and storage - For this, it is essential to fully integrate the radiology information system (RIS) and picture archive computer system (PACS). Along with the patient's identification (ID) and examination data, it is now generally understood that a RIS can automate mammography-specific activities, such as blind double reading, sending reminder letters for annual screening, producing customised patient letters for screening and diagnostic examinations and other functions.

RIS and PACS should be installed before installation of digital mammography or it should be part of a digital conversion. This is a far more complex task than installing the capture device, he points out.

Viewing images – Five megapixel monitors are needed for mammography, but most general radiology PACS do not have them. For this reason, screening units should consider buying new or updated workstations to display the large file sizes of mammograms at full resolution. However, even that flat panel size does not show some image matrix sizes at full resolution – an automatic zoom and pan tool is essential if large volumes of mammograms are to be read.
Rather than install dedicated workstations, centres for screening as well as diagnosis should opt for multi-modality breast imaging workstations, which enable reviews of all digital mammograms, as well as MR, ultrasound and other general radiography examinations.

The bandwidth – Computer networks must be able to transmit the very large size of digital mammograms. Internal IT staff, or a network specialist supplied by a contracted vendor, can evaluate an existing network infrastructure and environment and work out what might be needed to produce acceptable image distribution speeds. 'This is an often-neglected part of an implementation,' Christopher Varian emphasises. 'In a screening facility the ability to display a full study, with priors, in a couple of seconds, will test the fastest network. If not addressed up front this aspect alone will greatly reduce the acceptance of the entire system.'

Archiving – Depending on its capture device, in a year a small clinical centre, which carries out 20 screenings daily, generates around one terabyte of mammography images. Even with no increase in screenings, that means 25 terabytes of the legally stipulated 25-year image storage. 'An obvious issue here is the obsolescence of storage medium and files,' says Christopher Varian. 'A plan must be in place to migrate data on to current platforms or a major cost issue will be encountered in five to seven years after the first images enter the system.' He points to the real advantage of using off-line data centres to manage this type of back-up and migration service. 'Most centre managers will want to factor in an appropriate percentage of growth when coming up with their anticipated storage needs for the immediate future,' he adds, advising that facilities conducting diagnostic breast examinations should also organise storage for these files.

Implementing digital mammography systems might prompt centres to expand storage devices earlier than planned. However, he suggests that a decision to outsource image storage to an image management vendor, with retrieval on demand, makes that third party responsible for maintaining, backing-up and retrieving archived examinations - beneficially freeing up radiographers' time.

As said, legally examinations must be stored for years, and off-site storage and back-up in case of disasters must also be planned. Providers with existing business continuity/disaster recovery plans simply add mammographic images, but, without a plan, a mammography unit must develop and implement one, and might work with a hosted data management vendor to help develop and implement a business continuity strategy.

Printing – To share images with referring physicians, surgeons or patients, mammography units would need a high-resolution, mammography-capable laser printer. They should check whether existing printers can be upgraded to that level.

Designing a system – 'Implementing a digital mammography workflow is a demanding task that can exceed the IT resources of even large facilities,' he points out. In this case, managers might decide to work on the design and implementation of an infrastructure with a vendor, or independent mammography consultant. The latter often recommends appointing a project manager with expertise in purchasing and/or integration of all necessary networking, data and management systems. To prevent outdated tasks and routines hampering the new digital system, and to optimise processes, the consultant might suggest a complete revision of scheduling, examinations and reporting. These advisors, he says, can not only help to maximise digital workflow but also help to evaluate the implementation of digital mammography technology, and to decide on either CR or DR.

Your own system – Whilst many mammography providers are evaluating digital mammography systems technical specifications and calculating a return on this investment, the managers equally should work to develop an environment and infrastructure that can support these systems.
Christopher Varian adds: 'As with general radiography, installing a CR-to-print or FFDM-to-print solution offers very limited benefits, since it does not address the need to integrate these images into a digital workflow that includes automated input of patient and examination information, as well as fully featured soft copy viewing, and efficient image storage, distribution and back-up.'