A world of innovation
The first highlight is the expansion of IMPAX 6, the globally successful web-based PACS for diagnostic mammography.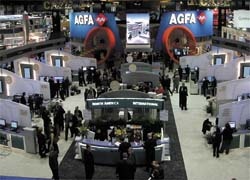 The new feature allows digital mammography images, be they generated by mammo-CR or by digital direct detectors, to be displayed on the PACS workstation and integrated into diagnostic workflows.

To further improve diagnostic outcome, ultrasound and MR images can be called up at the workstation. Moreover, CAD supporting systems benefit from this new option, which allows the regions defined as critical by the CAD to be highlighted by a marker function.

From diagnostic mammography we move on to digital mammography screening. The Agfa screening workstation, especially designed for the screening workflow, can be flexibly configured to comply with the diverse workflow and integration requirements. These may encompass regional or national screening regulations as well as different user preferences. The new functionality supports the high diagnostic pace as well as the integration into local and regional screening administration software prescribed, for example, in Germany by the Kassenärztlichen Verbände.
The next stop on our tour is RIS/PACS. IMPAX 6 was expanded to include not only digital mammography but also further clinical applications that play an increasingly important role in radiology. These include 3D visualisation and reconstruction, nuclear medicine, image registration and fusion or virtual colonoscopy.

All applications are integrated into the workflows on the IMPAX PACS workstation. Radiologists can access these directly, and only a single workstation is required to view all available image data.
A further innovation is Agfa's decision support tool, which integrates the PACS workstation with a case database. This allows call-up of organ-specific references to case-typical images and differential diagnostic data. Agfa plans to expand integration to the hospital information system. With its clinical information system ORBIS, the company has the necessary know-how in-house and the further integration of ORBIS with RIS/PACS is presently in development.

Transparency of clinical data is crucial so it is envisaged that in the future clinicians can view all relevant patient data, from admission to discharge, from a workstation. This is far more ambitious than traditional RIS/PACS and requires integration of all departments - from cardiology through pathology to surgical. Agfa is presently developing specific solutions.

But how to handle the ever-increasing data these new systems generate? Intelligent archiving and storage solutions are rare, so at RSNA Agfa presented IMPAX Data Centre, designed to support the archiving strategy of an entire hospital.

Data volumes will continue to increase exponentially and so will the need to integrate all departments and to manage data in a meaningful way. One crucial issue is the varying life-cycles of different types of data: Not all are created equal and have to be stored for the same length of time. X-ray images have a long life-cycle so storage technologies will need to develop over the next few years.

The final stop on our tour through the world of Agfa innovations is CR-30-X, a compact digitiser that offers image quality absolutely identical to that of larger systems. The new table-top product is a clever complement of the Agfa CR portfolio and is considered best-in-class.

At this year's RSNA, Agfa once again presented an impressive range of innovations that will begin their conquest of the radiological practice in 2007. We already look forward to our next Agfa world of innovation tour at the 93rd RSNA in 2007.