Innovations to improve cost and quality of patient care
"We have a broad set of products and services that enable healthcare providers to improve the quality and cost of patient care," said Carestream Health's Chief Executive Officer Kevin J. Hobert with reference to Carestream´s RSNA highlights. "We have digital technology and consulting services that few companies can match, and our integrated imaging and IT solutions are helping healthcare facilities all over the world realize the benefits of an all-digital workflow."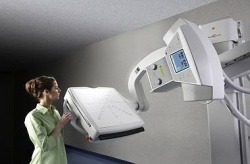 Carestream Health demonstrated many new, now shipping or works-in-progress products:
Digital capture systems – Carestream Health has dramatically revamped its KODAK DIRECTVIEW CR platform to further enhance image quality, improve technologist efficiency and increase ease of use. In addition, the company introduced two new single-cassette computed radiography systems—the KODAK DIRECTVIEW Classic and Elite CR Systems—that deliver exceptional versatility and value.

In the digital radiography area, the KODAK DIRECTVIEW DR 9500 System—shown as a works-in-progress last year and now shipping to customers worldwide—facilitates patient positioning and enhances technologist productivity. The company also demonstrated its value-tier KODAK DIRECTVIEW 3500 system for the first time in the U.S. Also on display is the KODAK DIRECTVIEW DR 7500 that enables medical facilities of any size to configure a DR solution that meets their individual requirements.

For bedside imaging, Carestream Health's compact KODAK Point-of-Care CR-ITX 560 System—a portable x-ray/CR system shown as a works-in-progress last year—is available and in use in intensive care units, clinics, nursing homes and hospitals of all sizes.
Management of medical images and information – Each year the company enhances its CARESTREAM RIS/PACS platform. This year, new CARESTREAM PACS features increase efficiency while enhancing service to referring physicians and patients, including:
New built-in dynamic streaming capabilities that make advanced functionality readily available to authorized users inside and outside the facility;
New workflow grid technology that enhances enterprise-wide access to images and radiology reports; and
Enhancements to embedded clinical applications such native 3-D, image fusion, orthopaedic templating and cardiac analysis.
New productivity-enhancing RIS features include elimination of redundant data entry, delivery of information automatically instead of relying upon radiologist queries, and new voice activated controls and voice activated standardized reporting that allow radiologists to conveniently dictate reports from any location. Carestream Health also recently launched a turnkey RIS/PACS imaging center solution that includes onsite and offsite storage options and workflow optimization services.
Storage of images and information – The company's expanded CARESTREAM Information Management Solutions includes eHealth Managed Services, offering a remotely hosted archival service that meets long-term storage and disaster recovery needs. Carestream Health also offers innovative regional and enterprise-wide storage management solutions that are in use at hundreds of healthcare facilities around the world. Carestream Health's Information Management Solutions manage DICOM and non-DICOM information, allowing healthcare providers to eliminate the cost and maintenance of multiple archives.

Computer-aided detection and measurement tools – The new KODAK Digital Mammography CAD System for CR is now available outside the U.S. It provides CAD analysis for Carestream Health's CR platforms, including KODAK DIRECTVIEW CR 850/950/975 systems, and the new Classic and Elite CR systems. Also debuted were new works-in-progress solutions including: chest CAD to help detect proper placement of tubes in ICU patients; breast image registration to help identify changes in microcalcifications or other abnormalities; and computer-aided measurement (CAM) of pulmonary lesions.
The company also showcased CAD software designed for several FFDM systems as works-in-progress, and showed chest CAD and bone mineral density osteoporosis detection systems—used in conjunction with CR and DR systems—which are currently available in China.
Specialized mammography solutions – Carestream Health demonstrated its rapidly expanding digital mammography portfolio, including new CR software that delivers:
Enhanced exchange of image information with other vendors' digital mammography and RIS/PACS systems; and
Reduction of digital image artifacts at the skin line.
Carestream Health's mammography solutions include CR mammography systems for use outside the U.S. and a multi-modality breast imaging workstation; film and digital mammography CAD solutions and mammography features for CARESTREAM RIS/PACS platforms. RIS/PACS mammography features include: tools that automate patient scheduling, personalize patient communications and simplify preparation of reports; functionality that facilitates the viewing and reading of exams; and more automated access to previous imaging exams. The company recently launched a new KODAK DRYVIEW 6800 Laser Imager that offers high-speed, high-resolution images for general radiography and digital mammography applications.
Molecular imaging solutions – Carestream Health demonstrated its latest optical molecular imaging solutions including the KODAK FX Pro In-Vivo Multispectral Imaging System and KODAK X-SIGHT fluorescent imaging agents. The company also introduced a new high-resolution digital x-ray specimen imaging line. By providing complete solutions for both in-vivo and in-vitro optical molecular imaging applications, the company is well positioned to help lead the transition from cutting-edge pre-clinical research to important clinical applications including oncology, cardiology and neuroscience. Earlier this year the company introduced new dyes for fluorescent in-vivo imaging applications. When activated, the dyes illuminate a region of interest allowing researchers to visualize targets more accurately. While the KODAK X-SIGHT Imaging Agents have been optimized for KODAK Image Station and In-Vivo Systems, they are also compatible with other digital imaging systems.
More on the subject:
More on companies: