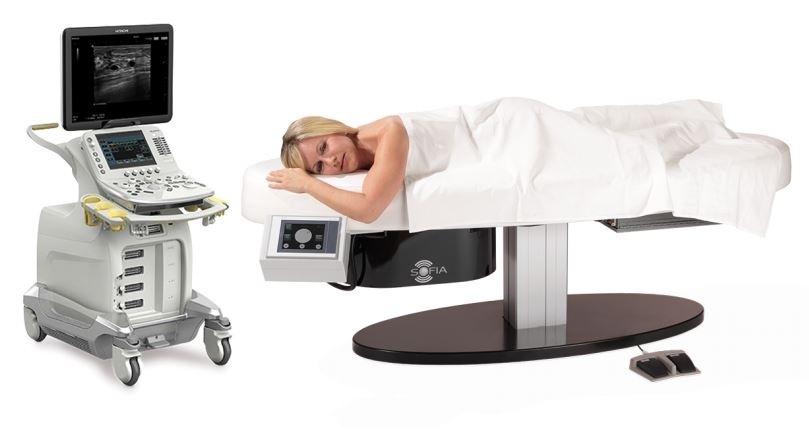 Hitachi
Article • Women's health
Built for comfort; created for speed
The new Sofia 3-D breast ultrasound system solves all the economic and logistic challenges associated with whole-breast ultrasound by using a full-field radial scanning method, the firm reports. The resulting throughput, efficiency, and patient comfort make Sofia an ideal solution for women with dense breasts.
Combining Hitachi's high-end ARIETTA ultrasound with iVu Imaging has resulted in the Sofia 3-D whole breast ultrasound system. 'By consistently finding cancers of five millimetres to one centimetre early enough, we are likely to find they are localised to the breast and pre-metastatic,' explained Mark Stribling, CEO of iVu Imaging Corporation. 'That's the goal, to find these occult cancers by surveying the (dense) breast quickly.'
It is understood that women with dense breast tissue face a four to six times greater risk of developing breast cancer. 'This is a high risk population, and all the literature tells us that conventional mammography is going to miss these tumours for four women in every thousand examined,' he added.
Speed up the process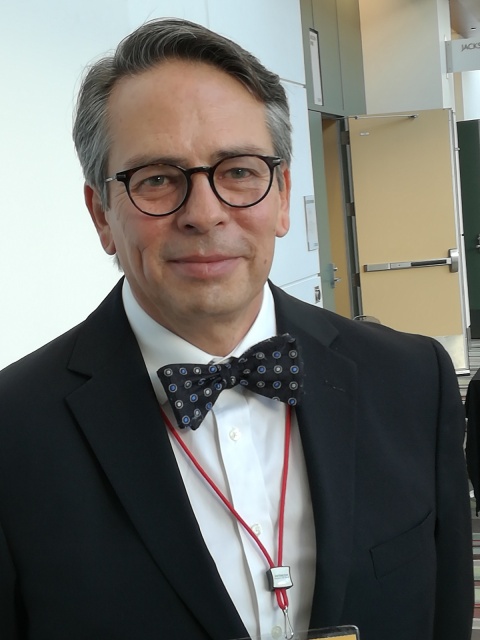 Yet supplemental ultrasound exams performed manually to detect hidden cancers are time-consuming, and a good outcome for a woman depends heavily on the experience of the operator handling the probe. To solve these clinical challenges, Stribling introduced an innovative approach with Sofia, an examination table that automates the examination and speeds up the process developed in Texas through his start-up company, iVu Imaging Corporation.
Partnering with Hitachi Ltd, in Tokyo, Japan, Stribling could take Sofia to the next level. In September 2016 he introduced 3-D radial acquisition of whole breast images using a long linear transducer (92mm width), which was then linked to the Hitachi's 'Noblus' ultrasound system. Following the latest development steps, Sofia now also can be operated in conjunction with Hitachi's premium performance Arietta platforms. 'The Arietta platform is the game-changing breakthrough for 3-D whole-breast ultrasound,' Stribling pointed out. 'Hitachi ultrasound now enables the Sofia system to scan eight times faster than our first configuration, while at the same time tripling the resolution.'
A full bilateral exam requires just 10 minutes from the moment a patient enters the exam room until she leaves. As a result, clinics equipped with Sofia can schedule more patients for supplemental imaging per day requiring no additional consumables and no time-consuming pre-scan preparation. Sofia does not require a room dedicated to whole-breast ultrasound. Instead, the adjustable height table and the Arietta platform create a new multi-use examination room for a wide variety of diagnostic ultrasound exams or interventions.
Confirm findings
Sofia also offers women the most comfortable of any breast exam experience, the firm points out. They lie on a padded table and, unlike suffering the breast compression involved in other devices, the breast is positioned in a recessed cone in the table and then, in a single automated radial sweep of only 30-seconds, a full image is acquired. 'We can present a single breast volume to the radiologist, clearly showing breast structures in their natively-acquired radial plane along with the reconstructed coronal, sagittal, and oblique views if desired,' Stribling said. 'The result is an average interpretation time of about one minute per breast.'
The 900 images Sofia captures are reconstructed into a 3-D volume that looks more like an MRI image than a conventional ultrasound image, yet with the anatomical detail that ultrasound can provide. 'This view gives clinicians the ability to review the exam like a breast tomosynthesis or MRI image that they are familiar with. In fact, all our customers who use MRI for supplemental dense breast exams also use Sofia for a second look to confirm findings, because of the number of false positives in MRI images,' he added.
The automated acquisition also assures consistent and reproducible results, thereby eliminating the user-dependency of manual breast exams using traditional ultrasound. Because the Sofia is powered by the Hitachi Arietta platform premium ultrasound system, it comes equipped with a host of powerful imaging capabilities. Arietta family's Symphonic Technology optimises data fidelity along the entire signal handling chain, from transducer to display monitor, the company pointed out. The system also dynamically focuses at the pixel level, improving resolution and image uniformity.
'Anything Arietta is capable of doing, the examining clinician can do with Sofia,' explained Stribling, who added that Hitachi engineers are already working with iVu Imaging to bring an innovative capability to Sofia with automated eFlow Doppler scanning and mapping in 3-D.
'Hitachi's eFlow can depict very specific intra-nodular vascularity so that we will not only see abnormal anatomical structures but with the push of a button can provide functional information showing any abnormal vascularity, such as angiogenesis,' Stribling said. 'This new functionality is not very far away.
PROFILE:
Mark Stribling is President and CEO of iVu Imaging Corporation. Stribling introduced an innovative approach with Sofia and set up his own start-up company in Texas. Partnering with Hitachi Ltd. In Tokyo, Japan, Stribling could take Sofia to the next Level.